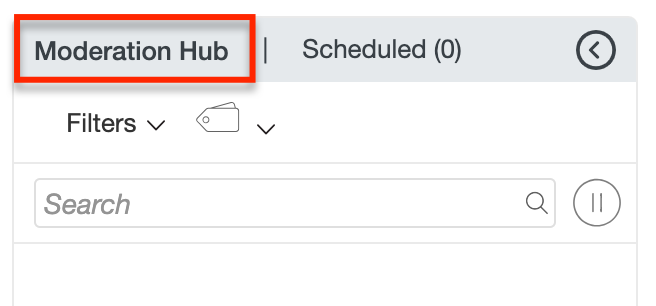 What is the Moderation Hub?
The Moderation Hub is a staging area. It allows users to plan, review and organize content from across multiple sources before publishing - right from the Writer's Interface in real-time.
It also allows users to quickly collaborate, filter, sort and publish content with ease; while still having full access to the Rich Text Editor and the Discovery Hub (Search Content column).
When a post is added to the Moderation Hub all collaborators (with access) will be able to see it. Once the post has been published from the Moderation Hub it will disappear for all collaborators, so everyone will know it has been published.
Users curating content from any source can choose to save this content to the Moderation Hub so it can be reviewed and if applicable, published when the time is right.
Reader Comments automatically appear in the Moderation Hub in real-time and can be published, tagged, deleted.
Channel filters allow users to filter the content and narrow in on content relevant to them.
Learn more about these Moderation Hub features:
Scheduling Content
Scheduled content appears in a dedicated tab in the Moderation Hub until it's published making it easy to see and manage upcoming items.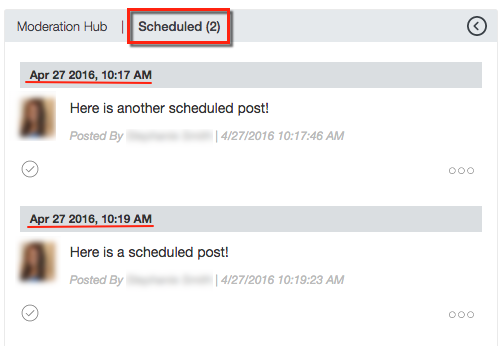 Click Here to learn more about scheduling a post from the Rich Text Editor!
*NEW* Filtering Content
Select how you want to filter your content in the Moderation Hub. You can filter content by audience interactions and social channels as well!
Comments - Questions, comments, and uploads initiated by your audience.
Public Replies - Public replies to posts.
Moderated Writer - Posts are written by a user with 'Moderated Writer' permission level.
Post - Original content created in the Rich Text Editor.
Twitter - Content from Twitter.
Facebook - Content from Facebook.
Instagram - Content from Instagram.
YouTube - Content from YouTube.
You can now change the number of displayed posts inside the Moderation Hub. Just hit the drop-down menu and select the number of posts you wish to view. Note, when changing the number of visible posts it will pause the stream so that you don't lose the posts you are viewing during a live event.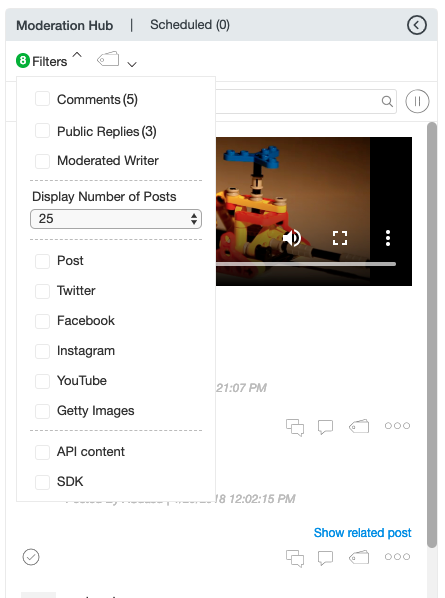 Tagging Content
You can add single or multiple text based tags to any post in the Moderation Hub and filter by these tags.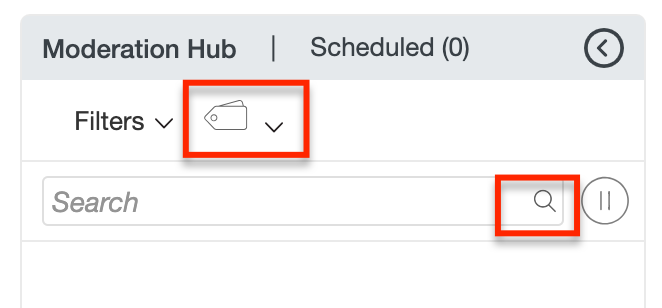 Want to learn more about tagging content? Click here!
Searching for Content in the Moderation Hub
The Moderation Hub gives users the ability to store content before publishing. With a collection of content from multiple sources, being able to find content quickly is a useful and important feature. The Search field within the Moderation Hub is able to retrieve keywords from the following sources:
Text posts (including audience questions)
Photo & Article Captions
Tags attached to posts
Text and captions from social embeds
Account names from social embeds (e.g. @Live)
Back-End user names (i.e. The name of the person who created the post)
Front-End/Commenter user names (i.e. The anonymous name or social handle of the the commenter)
Written Months in social embeds (e.g. Searching "Sep" will surface the posts with Sep (September) in the date)
Note: The search field is not case sensitive