Adding tags in the Moderation Hub, Rich Text Editor, or on Published posts is an effective way to organize your content and make it searchable within Content Studio. Users can add text based tags to posts, then use those tags to filter content.
Tag Use Cases:
An editor can tag content in the Moderation Hub as 'Approved'. Colleagues will be able to curate content from this approved list of content.
For multi-day events, content can be designated to be published on a specific day. For example, "Opening ceremony".
When hosting a Q&A, questions can be assigned to various subject-matter experts by tagging the content with their names.
Tag content (before or after publishing) and leverage the API to highlight and display that tagged content.
Navigation
Dashboard > Any Live Stream > Write > Content Studio
Permission
Administrator l Developer l Editor l Moderator
---
Apply a Tag
1. In the Moderation Hub, click the Tags icon found under the post.
2. Type keywords into the tag field, separated by commas.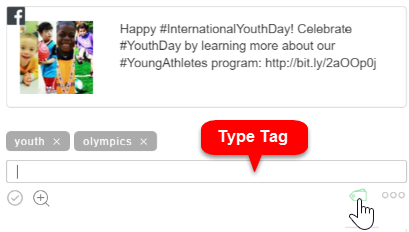 Note: As you begin to type, matching tag suggestions will appear below your entry, making it easy to reuse tags.
---
Search for Tagged Content
You can use the tag search feature to quickly find approved content or content that has been assigned to you.
To search for tagged content:
1. Click the Tags icon at the top of the Moderation Hub.
2. Enter the tag name in the Search Tags field or select a tag from the list. The Moderation Hub will only display content with this tag.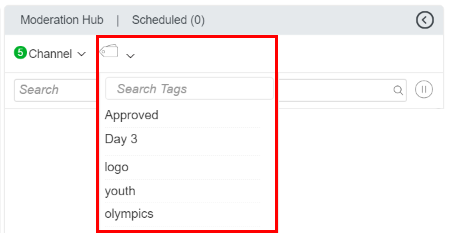 Note: The list of tags that appear below the Search tags field represent the tags currently attached to content in the Moderation Hub.
---
Tag Suggestions
Users who use tagging often, may want to reuse the same tags. To make this quicker and easier we've added a tag suggestion feature.
As you begin to type, matching tag suggestions will appear below
To apply the tag, simply click an existing tag name
To add a brand new tag, just click 'enter'