In this article, you will understand how to register the assets that your agency works with within Studio.
To add a new asset, go to settings > asset templates, click on the "+ New" button and follow the registration steps. Keep in mind that items with a red mark are mandatory. When you finish filling out the first screen, click on the "save and continue" button to define the workflow.
1) Choose the workflow that best fits your agency or the asset that will be produced.
Traditional, as the name implies, is for traditional, offline assets.
Digital, for digital assets.
Or you can also choose to customize a workflow, starting one from scratch according to your needs.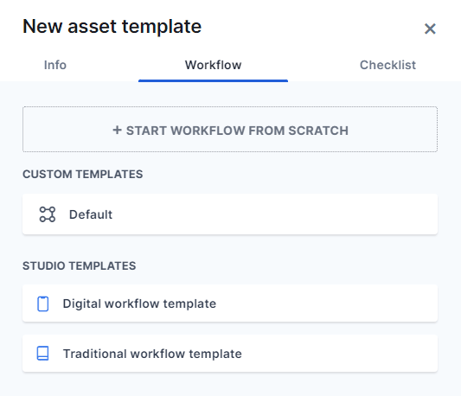 2) Agency Value, Value Union Creation, and Value Union Completion
These features are coming soon!
As you register the assets, you can enter the values for creation and completion according to the union table and the amount that your agency charges for the service. These values are extremely important, as they will be viewed and used as internal cost value within the proposal that will be sent to the client.
As you end up filling in all the information, you will have a complete list of services.
If you want to delete some information, view inactive assets or modify the value of several assets at the same time, just mark the checkboxes, then click on the three dots on the upper right and select the correct option.

Editing can be done by clicking directly on the desired item. On this same screen you will have resources to refine your search. You can search by "keyword" or use the sorting features using the "Options" icon.

We have the possibility to standardize the workflow of assets that have already been predefined. For this to happen, just click on the asset that a tab will open. After that, just click on "Workflow" and customize it according to the agency's demand. Another detail: there is the possibility of changing the template.
3) How to define the values for the services of your agency?
Most agencies find it hard to define the amount to be charged for a service. In many cases, they even give an 80% discount on the union table. But can this value harm your agency?
To help you develop a sustainable price list, we recommend using the timesheet. This tool will help your agency measure the time and value spent on each asset. From these consolidated data, you will be able to define more accurately the amounts that should be charged to your client, without causing financial losses to your agency.
Still need help? Simply reach us at help@rockcontent.com or through the platform chat and we will help you!