Got any questions about the Stage? In this article we will help you choose the best way to contact our support team.
Service Channels
Today, Stage's support team works through 3 service channels: Help Center, E-mail and Live Chat.
Help Center
Here is the fastest way to get your questions answered. We have materials that teach you everything - from how to make a DNS pointing or how to solve login problems, to how to customize your Stage template. Just type the keywords in our search bar:

E-mail and Chat
Logged into your Stage panel, you will find the Support icon in the upper right corner of the screen:





When you click on the button, the service channel options available for your plan will appear: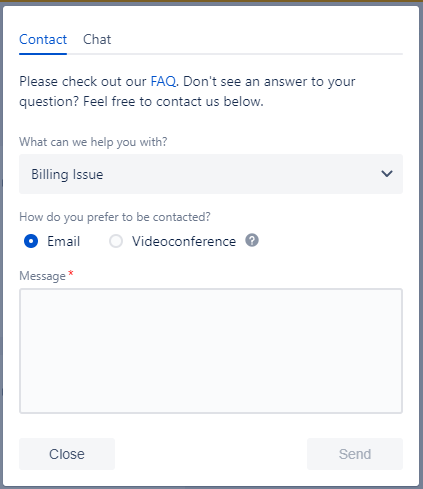 Email
In the support box, you can select the option to contact us by email. You just need to select the general topic you want to talk about and describe your question.

For this service channel, our maximum time for the first return is 12 hours and you can send the email at any time and any day of the week.
Chat
In chat, our average response time is a few minutes and it's available 24/7, which means you can contact us anytime and any day of the week, whether it's a holiday or weekend.

If one of our agents is not currently available, you can send your message and we will contact you as soon as possible.
Video call
For some plans and specific cases, it is possible to schedule a 15-minute call with one of the support agents. To find out more about this, just click here.