Learn how to configure your Ion experience to automatically remove data collected from users
Ion stores data collected from your visitors - until you decide to delete it. This feature is beneficial for companies who collect sensitive data, export it to their backend environment immediately and then want the data removed from the Ion console.
You can mark sensitive data for automatic deletion to meet strict data-security requirements. A Sensitive Data Expiration drop-down is available when adding or editing a Data field. To mark sensitive data for deletion, follow the steps below:
Navigate to the global Data Management menu and select Data Collection.
Click into an existing Data field category or add a new one. Next, select an existing Data field or create a new one.
Choose the appropriate option from the "Sensitive data expiration menu" toward the bottom of the screen and save.
The sensitive data expiration menu defaults to "not sensitive, never expires". Other options are as follows:
Deleted 24 hours after last contact
Deleted 48 hours after last contact
Deleted 72 hours after last contact
Deleted 96 hours after last contact
Deleted 1 week after last contact
Deleted 2 weeks after last contact
Deleted 4 weeks after last contact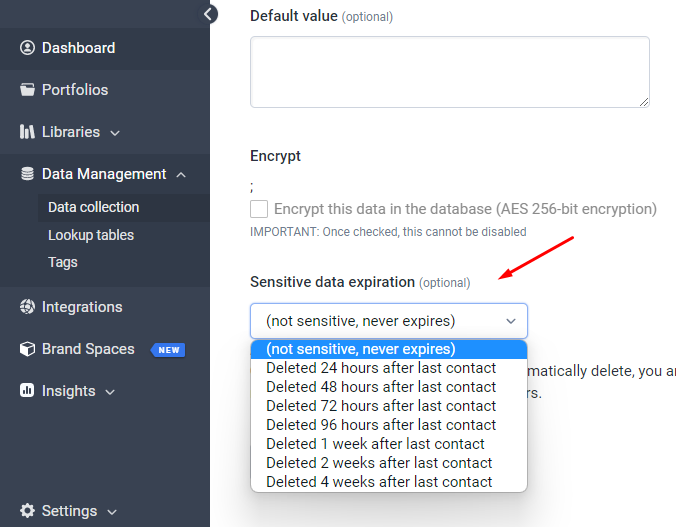 Please note: if you set a Data field to delete automatically, you are responsible for exporting the data before this expiration occurs - we recommend a minimum setting of 72 hours.
Automatically delete respondent data via Rules
You can also set up an advanced rule action that enables you to delete sensitive data upon successful export. The rule is labeled "Delete all sensitive data now" and is available under the "actions" drop-down menu. This advanced rule should be leveraged after an immediate export has been triggered. The rule would be added to the page-level rules editor on your "thank you" or confirmation page. Here's a sample of how this rule can be used: