How to manage comments in WordPress
WordPress allows blog admins to decide how the moderation is done. In this article, you will learn how to do this.
Accessing the discussion manager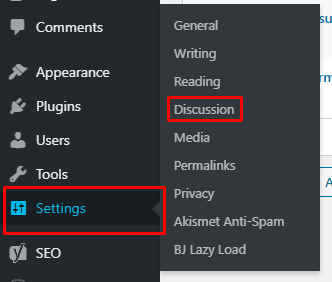 And done! The comment manager screen will show up.
Main settings
In this section, it is possible to choose the type of notifications that are sent to the website's main admin:

Attempt to notify any blogs linked from the article: every time your blog mentions another website's blogpost, the admin of that blog will be notified.
Pingback: this is a notification that WordPress sends whenever a post on your blog mentions another post within your blog.
Trackback: this notification is sent whenever another blog adds a link to one of your posts.
In addition, you can choose whether you will receive an email notification if a comment is posted:

The user that receives this notification is the one that has "Admin email address" entered in their profile. This address can be changed in "Configurations > General":

In the discussion section, it is also possible to choose:
if your comments will go through approvals or not;
if they will be grouped;
the way their authors will show up on the website.
Just scroll down and select the options that better fit your business.
If you have any questions, just get in touch with support through our various channels!