To increase collaboration and efficiency, the chat feature allows you to speak directly to individual members of the Project Team in real time. Chat is available to any Project Team Member, but it is project specific, so it's only available when you are in the Project Center. Chat is not available on closed projects. View the Chat Policies and FAQ below.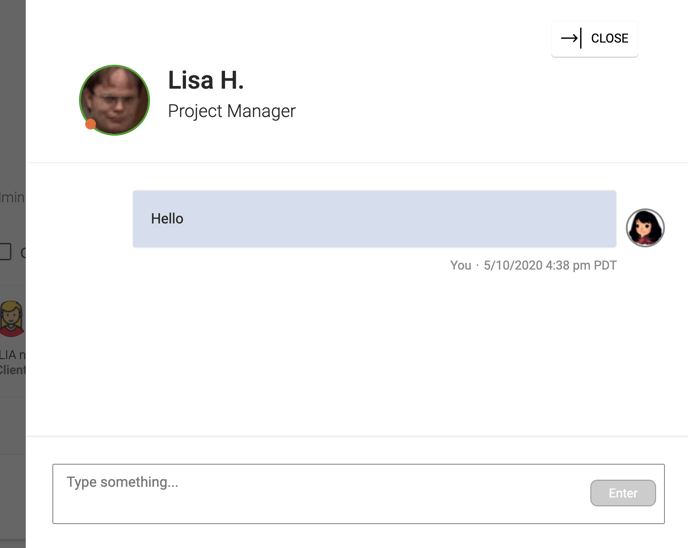 Visually Project Chat Policies
Feedback on deliverables should be provided and tracked via the Leave Feedback function in the Activity Feed so that the appropriate milestones are activated and the next stage of a project can begin.
Decisions made while chatting should be recorded and shared with the greater team by posting a message in the Activity Feed.
As in all Project Center communication, communication should be kept positive and professional at all times.
FAQ

How do I start a chat?
To start a chat, find the person you want to chat with in the Team section, and hover over their icon. Select Start a Chat, and a chat window will appear in the lower right of the screen.

Is there a Group Chat option?
We do not currently offer this feature, but plan to for future iterations.

Can I receive messages when offline or send messages to an offline user?
Yes! Offline users will receive an email digest of all messages as well as a notification on their dashboard that new messages are waiting when they log in.

What does it mean when someone is listed as online or offline?
When you are on any tab within the Project page, you will appear as online. For example, if you are logged into visual.ly but don't have the Project page open, you will be listed as offline. If you have two active projects, but only have Project 1 open, you will be listed as online in Project 1, but offline in Project 2.

Can I view my Chat History?
Chat History can be viewed via the Chat History tab. Chats are organized by team member. Visually Administrators will have access to view all Chat Histories.

Can I change my status to online or offline manually?
We do not currently offer this feature. If you think this would be helpful, let us know!

When should I use Chat and when should I post in the Activity Feed?
The Chat function was developed to give project teams a place to discuss projects one-on-one in real time. It should be used when you need to discuss a project directly with another team member. This can be especially helpful for freelancers to discuss feedback or develop a concept before presenting it to a client.

Post messages in the Activity Feed when communication and discussion is relevant for the entire team. This tracks important decisions, tasks, and feedback on deliverables. All project assets should also be uploaded through the Activity Feed.