Use our RTE to Edit Posts in the Mod Hub!
Now you can enjoy all the enhanced creative capabilities of our RTE and edit Comments and Rich Text Editor posts added to the Moderation Hub. Prepare or manage content by applying a style, adding links or uploading images in advance of publishing. Just click on the

icon below the post and select 'Edit'.
This feature will be available for:
reader comments
moderated writer comments
RTE posts
Any updates that are made to a post will appear automatically and without having to refresh your browser.
Navigation
Dashboard > Any Live Stream > Content Studio > Mod Hub
Permission Level
Administrator | Developer
How to edit posts in the Rich Text Editor (RTE)
Step 1
Click the

icon at the bottom of an RTE post or a Comment located in your Mod Hub and select 'Edit'.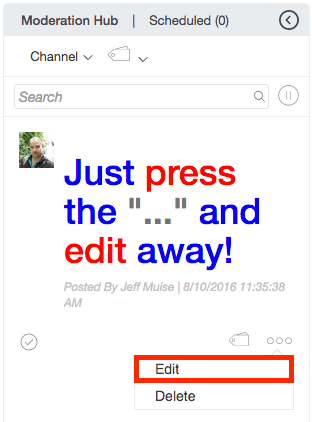 Step 2
The RTE will be displayed above the post and you can now edit and add text just as you would an original post.