Put live content in front of your audiences even faster with the Live Mobile Content Studio! Our Mobile Content Studio was designed to make event coverage a simple and efficient process for your team.
Using the Mobile Content Studio, you can...
---
Access the Live Mobile Content Studio
To be taken to the Live Mobile Content Studio on your mobile device, navigate to...
m.client.scribblelive.com
Log in with the same credentials you use to log into the desktop version. Clients with access to multiple accounts will be asked to select an account before proceeding.
We're keeping it simple!
The Mobile Content Studio is a simplified version of the platform, meant to facilitate on-site event coverage. Certain tasks, such as publishing or adding users to the account, will need to be completed on the desktop version.
From the Mobile Content Studio, you'll be able to....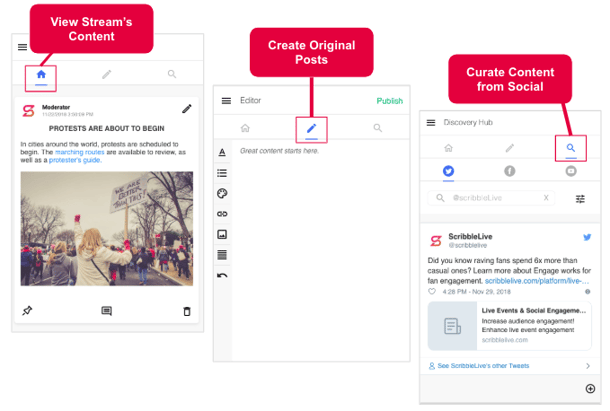 ---
Create a New Stream
Once you've logged in, you'll be able to open an existing stream or Create a Stream.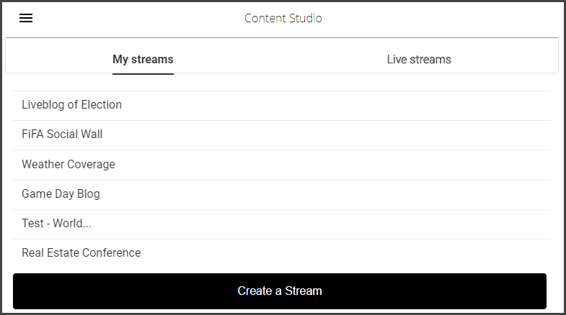 Note: Only Administrators, Developers & Editors can create new streams.
Streams will be listed in 2 categories:
My Streams - These are streams that you have created or have been invited to.
Live Streams - These are streams that are currently open within your account.
When creating a new stream, the simplified stream setup page will ask you for a Title and Description.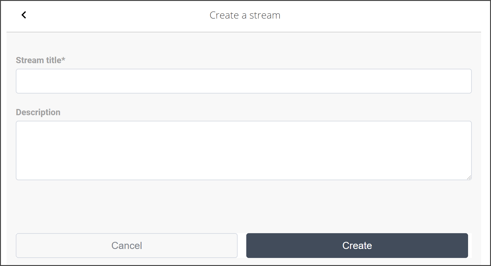 Once created, click the stream's title to start creating content.
Need to publish?
Connecting a stream to your CMS can only be done with features on our desktop version. Once connected, posts published on the mobile device will automatically appear on your digital property.
---
Create a Post
In order to tell a live story, you'll want to create a message and perhaps upload images and videos into the stream.
To create an original new post:
Click the pencil icon.
Type your message in the editor.
Optional: Format your post or upload an image or video.
Click Publish at the top right of the page.
The published post will appear under the home icon.
Enhance your post with these options:
| | |
| --- | --- |
| | Bold, italics, underline, remove formatting |
| | Bullet points and numbered lists |
| | Coloured Text |
| | Add hyperlink |
| | Insert Image or Video* |
| | Justification |
| | Undo |
*Maximum file size = 250MB
---
Curate Content from Social Media
Bring partners and expert voices into the the stream through social media posts. Search for social posts and publish them into the stream directly from the Mobile Content Studio.
To curate a post from social media:
Click the search icon to enter the Discovery Hub.
Select a social network (Twitter, Facebook, Instagram, YouTube)**.
Enter your search criteria in the field.
________Twitter: Search by keyword or people (use filters to change)
________Facebook: Search public fan pages
________Instagram: Search publish hashtags**
________YouTube: Search by keyword
NOTE: The first time you try to search, you will be asked to authenticate your account.
Select the + at the bottom right of a post to publish it to the stream.
Go to the home icon to view the post in the stream.
**Click here to learn how to authenticate your Instagram account.
---
View & Edit Published Posts
Clicking the home icon will display all of the stream's published posts. You'll have the ability to edit all of the posts you have published.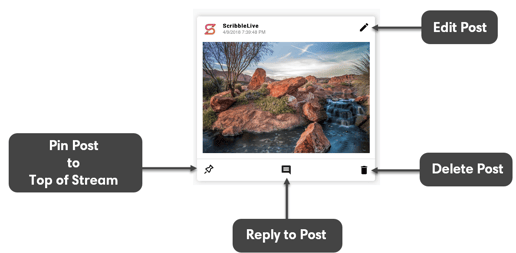 Edit
♦ Make changes to a post that you've already published.***
Delete
♦ Delete a post permanently.***
Reply
♦ Add a comment/reply to a post that you've published.
♦ Mobile back-end users can reply to posts even if audience Commenting and Public Replies are disabled.
Pin
♦ Pinned posts remain at the top of the stream.
♦ Once pinned, the post will no longer appear in the stream, it will be visible by clicking the top right.
***Note: There are editing and deleting limitations for Writers, Guest Writers, and Moderated Writers:
Writers & Guest Writers - Cannot edit or delete posts made by others.
Moderated Writers - Cannot edit or delete any published post.
---
Limitations
Updated 7/6/2020
Publishing to a webpage can only be done from our desktop interface.
Guest Writers are not able to log into the Live Mobile Content Studio.
Articles will be hidden and cannot be seen in your "My Stream" and "Live Stream" page.
Script codes when published, will show as unsupported posts. Social Embeds are fine.
Image captions are not yet supported. If an image is uploaded with captions on Desktop, it will only show the image in mobile.
Content icons cannot be added to posts
---
Coming Soon!
The ability to moderate comments in the Moderation Hub.
We're on it!