We have recently added a new feature to Twitter and Instagram automation - the ability to send automated content directly into the Moderation Hub in Content Studio. All automated content will appear in real-time, but will not be published to your live stream until you approve it - giving you another level of moderation for your automated content.
How does it work?
When selecting a handle or keyword to automate on the Twitter/Instagram automation pages, the checkbox Send to Moderation Hub will appear.
When checked, automated content will flow into the Moderation Hub.
When unchecked, posts will publish automatically.
Note: This option can be applied individually to each follow.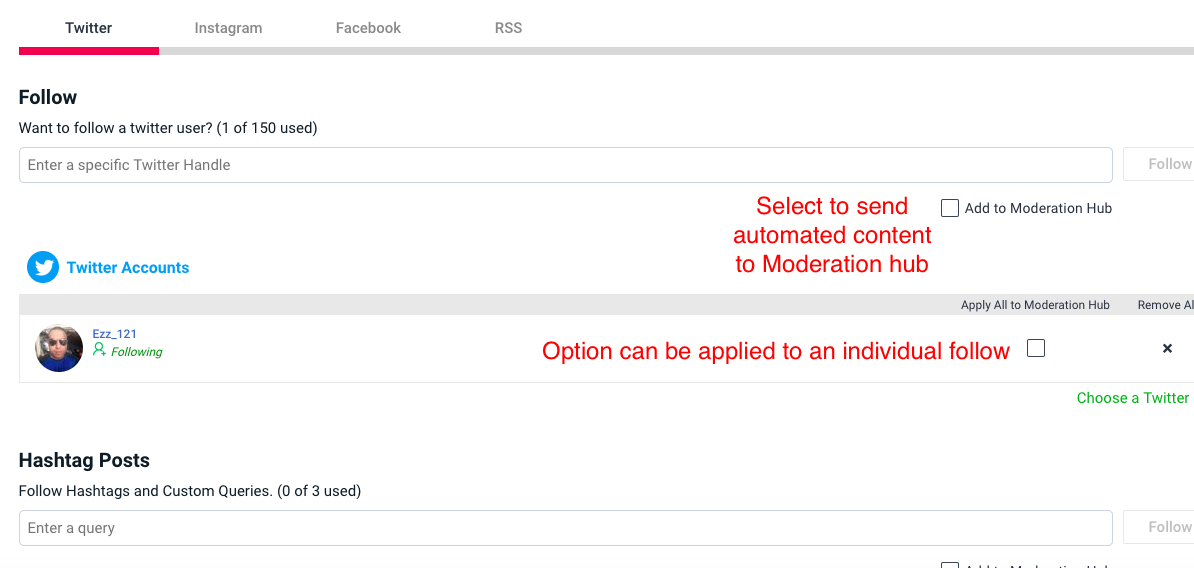 FAQs
Can I apply this feature to hashtags?
Yes. This option is available for both account automation and keyword/hashtag automation. Enter the hashtag/keyword in the Auto Post section, and select Send to Moderation Hub to moderate automated hashtags.
Can I automatically publish content from certain handles and moderate others?
Yes. Turn Send to Moderation Hub ON or OFF for each Twitter / Instagram auto-follow.

Can I begin moderating an account that I previously published automatically?
Yes. You can turn the option on or off for each automated keyword or account.
How do I filter through the automated content in the Moderation Hub?
From the Moderation Hub, individual users can organize and search for content in the following ways:
Filter posts by Channel (e.g. Select Instagram under Channel to see only Instagram posts)
Use the search field to find posts with certain keywords
Use the pause button in the Moderation Hub to pause the flow of incoming automated posts
Click here to learn more about moderating posts in the Moderation Hub.