Search and pull in content from Twitter using Live's integrated Twitter search, located in the social sidebar. Use the filter options to pull in specific types of Tweets - such as Tweets with images, or from verified users, and refresh your populated search results by clicking on the search icon.
Navigation
Dashboard > Any Live Stream > Write
Permission Level
Administrator | Developer | Editor | Moderator
Search for Tweets in the Content Studio
When searching for Tweets to pull into your stream or article, you can search by either keyword or people/organizations.
TO SEARCH FOR TWEETS:
1. Click the Twitter tab located in the Search Content column.
2. Simply click Keyword or People.
Keyword - In the search bar, type a search query and click Enter on your keyboard to populate relevant results.
People - In the search bar, type in a Twitter handle and click Enter on your keyboard to populate Tweets from your specified user.
Note: The first time you search, you will be prompted to sign in to Twitter to link your account.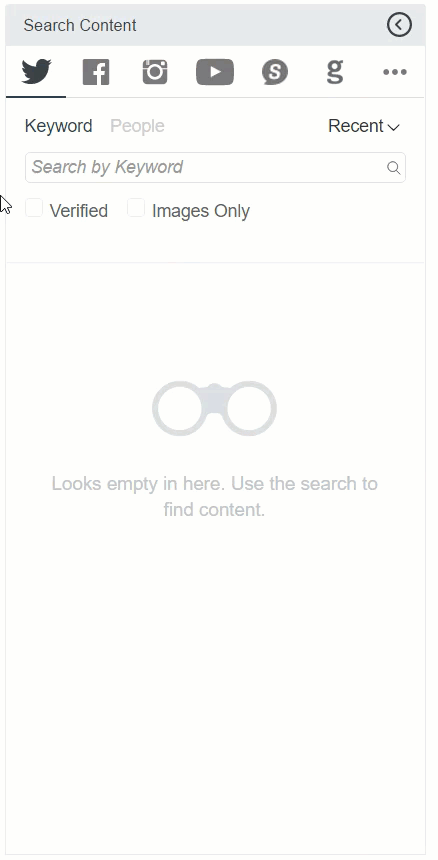 3. You can publish the Tweets found in your search results immediately, or save them to publish later. The following options are available:
Click the to publish the Tweet to your stream. The Tweet will appear in the far left column.
Click the to send the Tweet into the Moderation Hub. You can publish or delete the Tweet from the Mod Hub at any time.
Click the to send the Tweet to the Rich Text Editor (RTE). In the RTE, you can add a description of the Tweet before publishing.
You can also drag and drop the Tweet into the Mod Hub or RTE. Select the grey area surrounding the Tweet to activate the drag'n'drop functionality.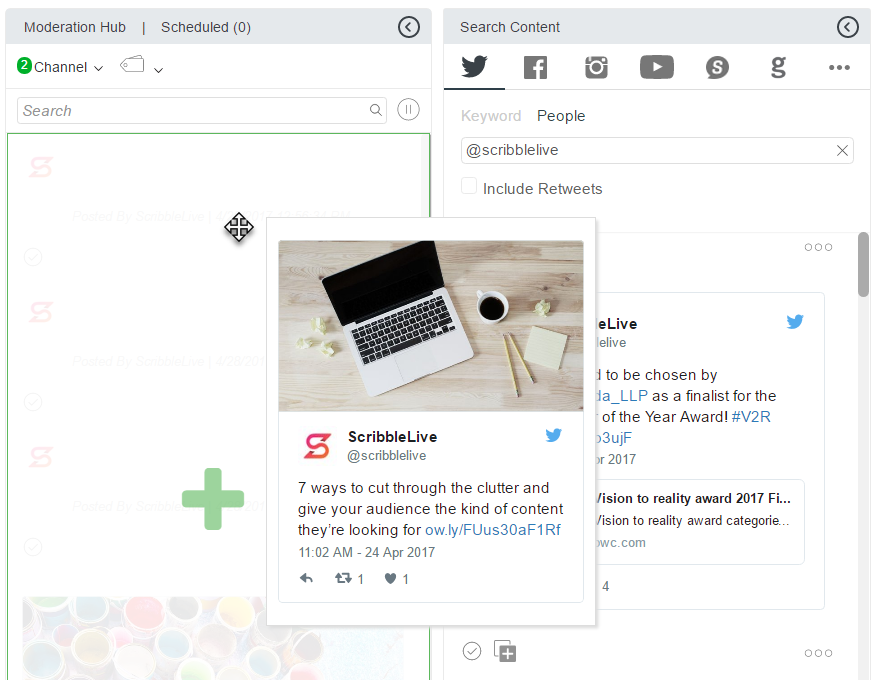 4. (Optional) Apply Filters, then click Enter on your keyboard again to refresh your search results.
Keyword Search Filters:
Verified: Returns Tweets from verified accounts only
Images Only: Returns Tweets that contain images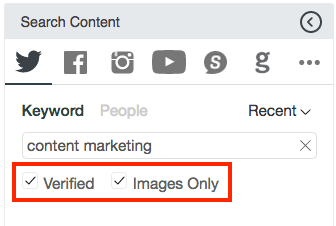 Recent: Returns only the most recent results
Top: Returns only the most popular results
All: Includes both popular (top) and recent real-time results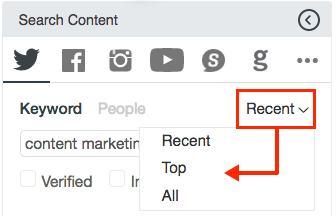 People Search Filter:
Include Retweets: Returns Tweets created by the user and Tweets the user has retweeted
Note: Only Tweets from public users will populate in your search results.