The Live platform offers key privacy features that allow you to collect IP addresses anonymously and to offer visitors a form to opt into or out of third-party cookies from being dropped in their browser.

To access these features, hover over the Settings tab and select Privacy.

Navigation
Settings > Privacy

Permission Level
Administrator or Developer
IP Anonymization
The Live platform will automatically store the IP address of any visitor who interacts with your streams. If your organization has strict security requirements that do not allow you to collect your visitors' IP addresses, you can quickly enable the IP anonymization feature within your Live console.

When this setting is enabled, the last octet (i.e. the numbers after the last period) of every IP address that is collected will be set to 0. By changing the last octet digit(s) to 0, anyone who has access to your visitor data will not be able to use the IP addresses that are collected to locate your visitors.
To enable this setting to collect IP addresses anonymously, simply flip the first switch on the Privacy page and then click the Finish button.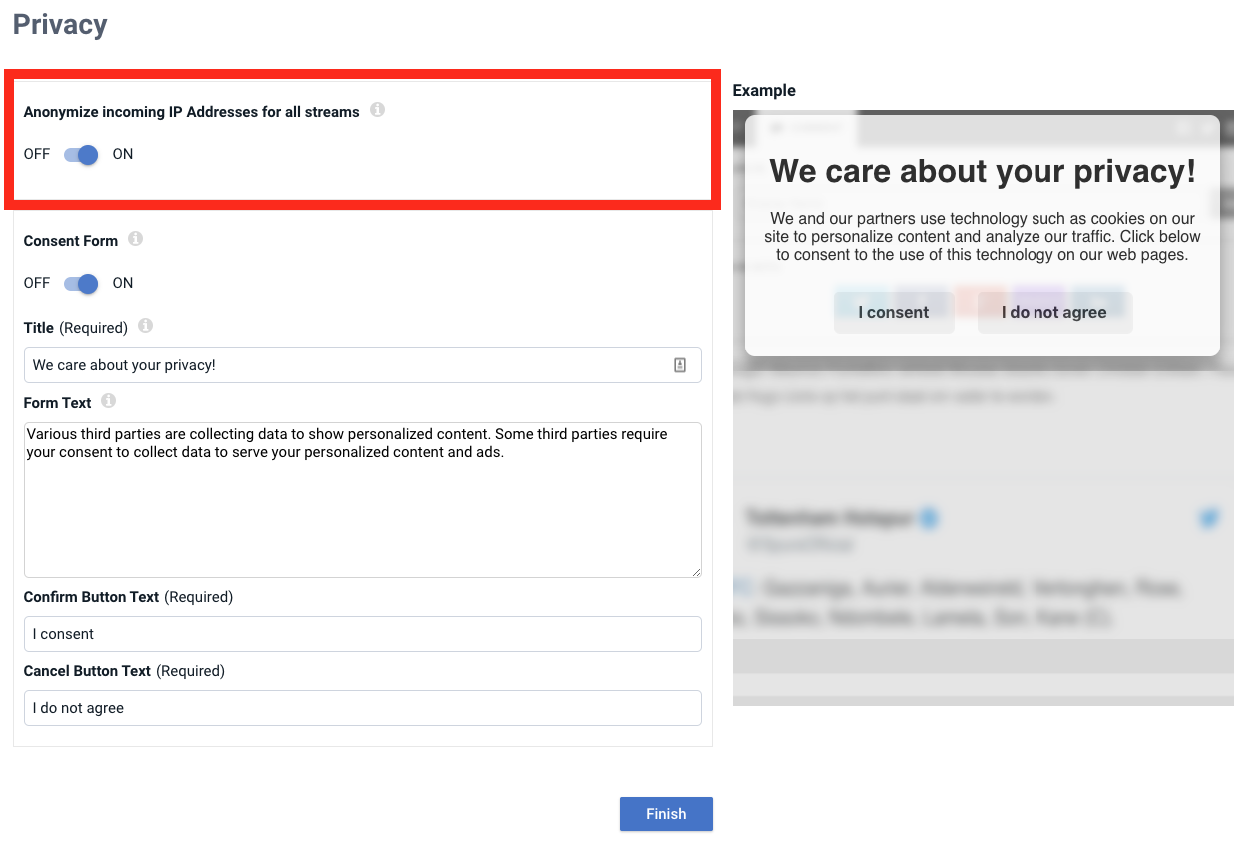 NOTE: When IP anonymization is enabled, you will no longer be able to ban users by IP.

Please also note that IP anonymization could impact some analytics that relies on visitor IP addresses for tracking.
Consent Form
When embedding an Live stream on your site, certain third-party cookies are dropped in your visitors' browsers by default for tracking purposes.

You can enable the consent form option in your privacy settings to display a form whenever your Live embed code loads in someone's browser to give them the option to opt into or out of those third-party cookies.

Visitors who opt into third-party cookies will be able to view all of the content being pulled into your stream and will receive all relative third-party cookies.

Visitors who opt-out of third-party cookies will not receive these cookies and will not be able to view content from Facebook and Instagram as these two social platforms do not have a private browsing option that can be used to view content.

After the visitor confirms their decision, their preference will be recalled so they don't have to opt-in or out every time they visit.

To set up a consent form, simply flip the switch for the consent form and then fill out the title, body text and button text you want to display to visitors who visit a page with your embedded Live stream. You can also use HTML for the form text if you'd like to style it a bit differently. When you're all done, click Finish.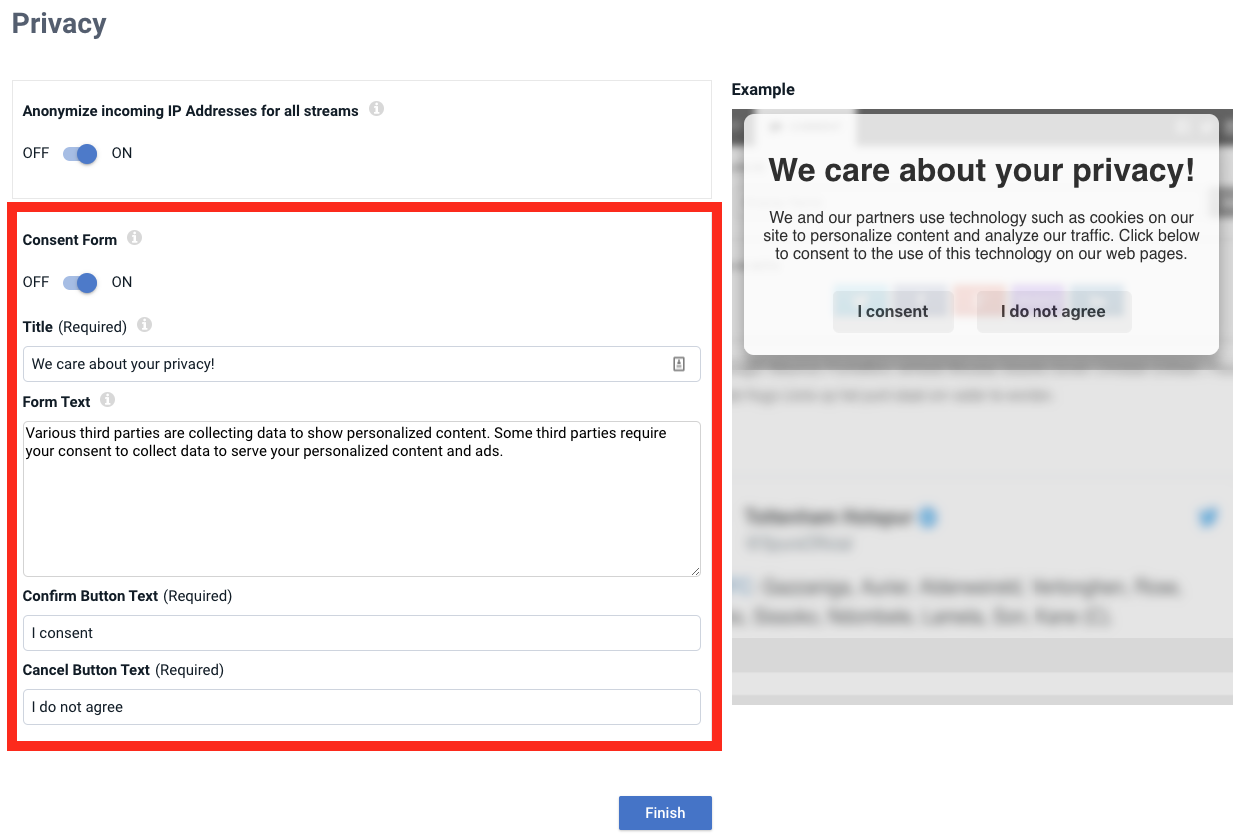 NOTES:

These settings are global and will apply to all of your Live streams.

Visitors' preferences to either opt into or out of third-party tracking cookies will be reset if the visitor performs a hard refresh of their browser.

Cookies from other social media platforms, such as Twitter, maybe dropped in visitors' browsers. These cookies do not perform visitor tracking functions and so they can be accepted by visitors who opt-out of having their data tracked through third-party cookies.