Posting and Uploading to a Project Page
Once a freelancer has been assigned to the project, you will be able to post messages and upload files to the Activity Feed. You should see a green button that says Add Post.

Clicking on this button will expand the text box where you'll be able to type your message. Begin the post by giving it a relevant subject to provide better context. Once you have completed your message, click Save Post and it will appear on the Activity Feed.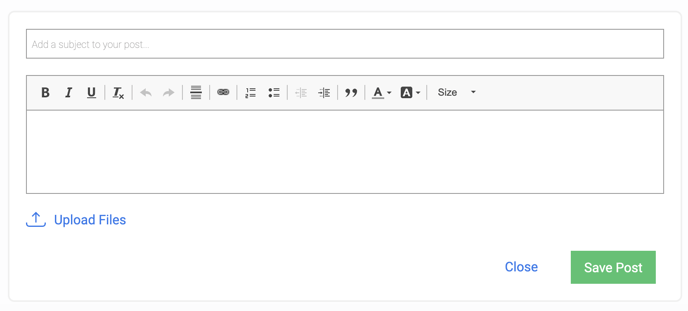 Messages in the Activity Feed are labeled as either a Post or as the relevant deliverable. This will allow you to easily scroll through the Activity Feed and locate key files and posts. The post will also display the subject so that it is easy to identify the right thread on your feed.

If you need to upload a Project File or Draft, click the attachment icon to attach a file and choose your file or click and drag the file from your computer.

If a creative team member selects 1st Draft, or another option that is reflected in the timeline, then that milestone will be activated. If you aren't ready to activate the next milestone, you can upload as regular Post. Finally, select Save Post, and voila!
Note to Clients: To activate the client feedback milestones, you'll need to post using the feedback selection - visit this article for more detailed instructions with screenshots!