Portfolio Upload Submission Tips
Welcome to the new Visually Profile, we hope you're enjoying the enhanced experience. While the changes we've made help us match you with the most suitable Visually projects better and faster than ever before, we'd like to offer even more help navigating the new features.
Below are some tips that serve to inform and save you time when customizing your profile.
You may not have known:
Your portfolio is tied into our Community site. We have a lot of traffic to this part of our site, and it is often a place our clients go to seek out creative inspiration.
Pro Tip: Search for your own submitted content and make sure you don't upload a duplicate piece of content and that you've been properly credited on all past work.
There's an "approval" process that confirms the works being uploaded. This generally takes around two business days.
Tips for uploading content:
Once you hit the upload button, you'll see four categories to upload work: Infographics, Videos, Presentations & Interactives



After you select the right category, you'll either see a green upload button at the top or a place to enter a URL. For options that require an image upload, you can also include a link to an external source like Dropbox, Slideshare, or even your own personal site/portfolio for proper crediting.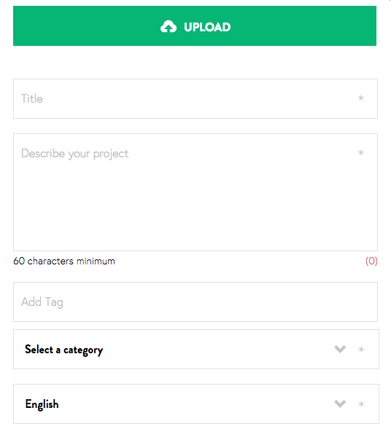 Pro Tip: If you have samples of logo/branding, document design/ebooks, social, iconography or illustration work that you'd like to include, please go ahead and upload under the "infographics" category.
Currently, videos, presentations and interactive examples can't be uploaded directly and must be shared by linking to a source site. Again, this could be a link to your own personal site, or another hosting platform like SlideShare, which allows many type of file uploads.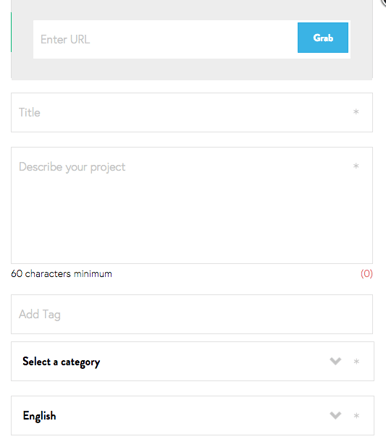 Pro Tip: If an interactive work sample is no longer public, but you have permission to share, you may want to consider creating a staging site or linking to the work in another form, for example a PDF. Just be sure you have permission to share.
Not sure where to upload samples of your work if you're a Writer? Try submitting the deliverable itself.

Contribute to an infographic? Upload it as such. Was your article published online? Submit the link. You can also upload plain text in PDF format.
Did you write the script for a video? Link to the video online.
Did you create the content for a presentation. Upload to SlideShare and provide the URL.