Learn how to set a conversion in your creative!
Why mark conversions?
Defining a conversion for each of your Ion creatives helps you to review the performance and success of the experiences you create and launch. When identifying a conversion point, you can ask yourself, "What is the key success metric for this experience? What do we want our users to do with this experience?"
Depending on the type of experience you create, the success metrics can vary, along with how you implement the conversion tracking.
Marking conversions for lead generation (form submission):
For experiences where lead generation serves as the main goal for the experience, where we hope to collect user information through a form, the conversion can be marked directly on the submit button, through the actions panel, by checking the 'Mark as converted' option.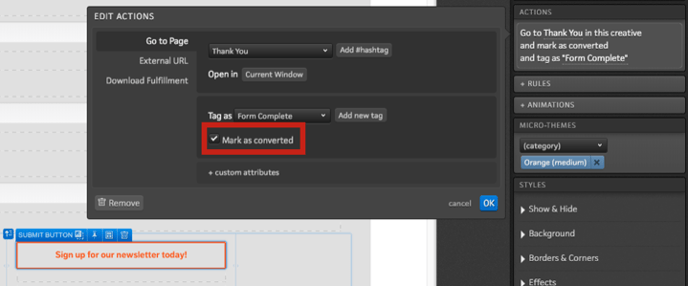 Marking conversions conditionally based on respondent data
You can mark conversions based on certain respondent data. For instances where you want users to opt-in as the main goal of the experience, you can add a rule to your submit button with a condition (or multiple conditions) that looks for certain respondent data to exist with an action to mark the user as converted. When going this route, you would not mark the default submit button action as a conversion point.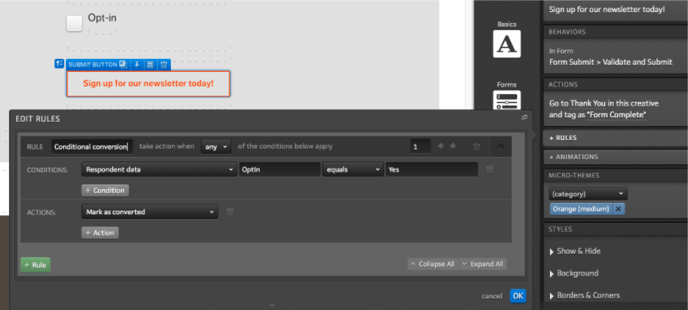 Marking conversions for assessments and quizzes:
For assessments and quizzes, you can mark a user converted upon completion of all questions by either checking off the 'Mark as converted' option for any buttons or choices that lead to the Results page, or adding a page rule to the Results page that has no conditions and an action to 'mark as converted.'

Allocating external conversions to the ion platform:
When you want to track users who visit content from an ion creative, and complete a key action outside of the ion platform, you can allocate conversions using an external tracking script. This method of conversion tracking can be particularly helpful for when you want to track a conversion as a purchase made outside of an ion page. For more information on this, click here.
Marking conversions based on number of interactions or visits
For instances where you want to measure conversions based on a certain number of actions a user takes, or the number of times they visit a page or creative, you can set up page rules to look for a certain number of actions and/or visits to trigger the conversion to mark.


Marking conversions using grades
You can use grading to determine when to mark a conversion. When a user arrives at a landing page, they have a default grade of "C".
Based on a user's interactions, you can assign a user a specific letter grade, as low as "F" and as high as "A+" with the ability to move a user up or down a whole or half letter grade.
You can add rules to links, to assign grades when users click on it, or when a user visits a particular page. You can set rules to mark a conversion when a certain grade has been reached.
You can add rules to links to adjust the user's grade when they click on the link, and set rules to mark conversions when the user reaches a certain grade.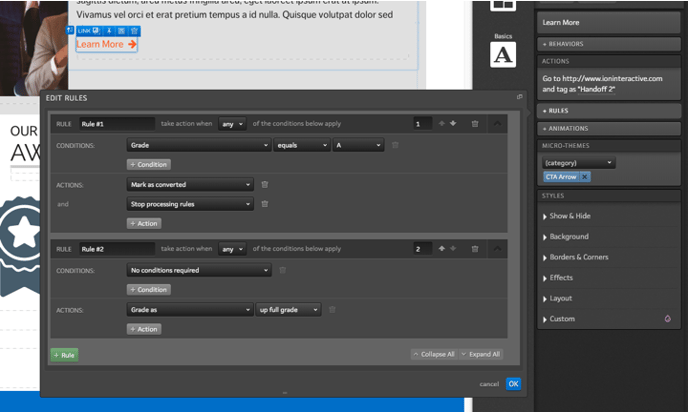 To assign grades, when a user reaches an interior page of an eBook or microsite, we save a unique value into respondent data, at the page level, and set how much we want the grade to increase by.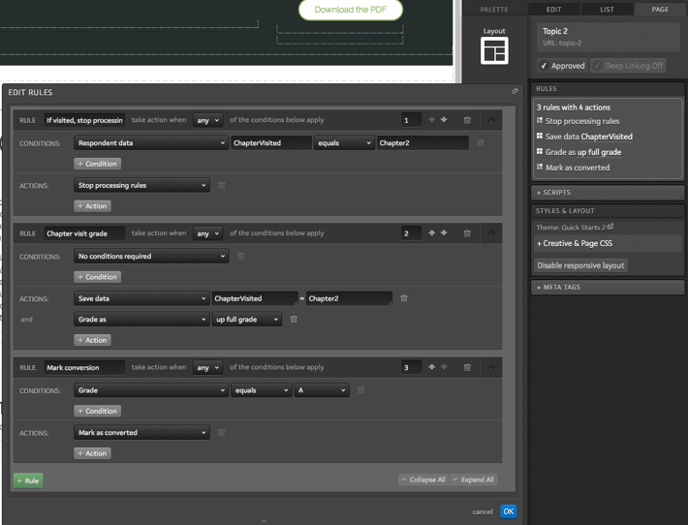 ---
If you have any questions, please contact us on help@rockcontent.com. 😀