Manager Permissions
Turn OFF or ON next to the feature(s) you wish to give access to.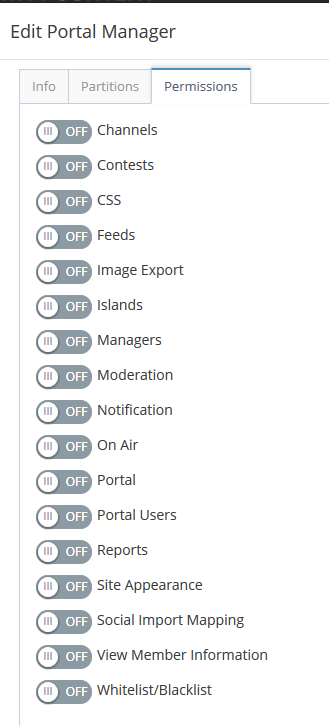 The following permissions are available:
Channels Access to create and manage channel galleries
Contests Access to create and manage contests
CSS Access to edit the Custom Style Sheet code
Feeds Access to feed/api information
Image Export Access to create image export segments
Islands Access to create and manage islands located on homepage of white label
Managers Access to edit, create, and delete Managers
Moderation Access to moderation gallery to approve, delete, view, edit, download, etc. media items submitted to the CC site
Notifications Access to create submission alerts
On Air Access to create and view on air segments
Portal Access to manage and control site settings
Portal Users Access to list of users who register for an account on your white label.
Reports Access to run reports on # of submissions and content categorization
Site Appearance Access to edit white label customizations
Social Import Mappings Access to add and edit social import mappings from Instagram, Twitter, and Facebook
View Member Information Access to view name, email address, or username of users who have submitted content
Whitelist/Blacklist Access to manage whitelisted and blocked senders