The task checklist is a way to help employees execute their demands.
What is the checklist?
The creative process demands attention to many details, right? And often, something can end up forgotten during the process, impacting the workflow and making it necessary to retake steps.
The checklist available in to-dos and assets is the resource designed to assist in these very important details. Through it, the collaborator can list these details and tick according to their conclusion.
The checklist configuration is available in the "My Tasks" and "Tasks Management" dashboards. It is also possible to pre-define a checklist in the asset templates.
Checklist in the "My Tasks" dashboard
To access the checklist, just go to your My Tasks dashboard > click on your task card (asset or to-do) and click on the "checklist" tab. There, you will include the items you want and tick the checkbox every time you complete an action:

Important: The checklist is related to the activity, not the step, and all actions performed on it will be stored and displayed in the task history area. The checklist does not lock in the completion of activities.

Checklist in the "Tasks Management" dashboard
Accessing any asset or to-do in the Tasks Management dashboard, it is possible to create, edit and complete a checklist.
Just click on the task and go to the "information" tab: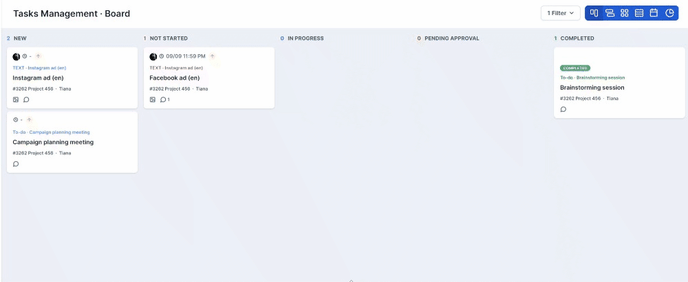 Checklist in the Asset Template
It is also possible to leave a pre-configured checklist in an asset, registering it in the asset templates by going to settings > asset templates > checklist.

Thus, this feature will already be available when the asset is executed.
Important: The checklist display order follows the item insertion order.
Still need help? Simply reach us at help@rockcontent.com or through the platform chat and we will help you!