The proposal is where we group all the information to be presented to a customer. But how do we change it if it has been already approved?
Have you ever considered if, at the last minute, your customer decides to change an item of an already approved proposal and you don't know how to edit it? In this article, you will learn how to do that in few minutes.
1. What is the purpose of the proposal?
It aims to group items that will be presented to the customer, in order for him to validate the project.
Within the proposal, you can insert the following items: internal costs (pieces), budgets, events, media planning, and media (PI).
After inserting all this data in the proposal, according to the work requested by the customer, the customer will assess which items will or will not be approved so that the agency can start the development of the project. (Learn how to create a proposal here)
2. How to change items in an approved proposal?
If a proposal already has approved items and the customer requests a change in any of them, it is not necessary to change the status of the proposal from 'approved' to 'awaiting approval', just deselect them from the proposal and edit normally.
To deselect the item to be edited, just click on the checkbox on the left according to the illustration below.
Important: to do this, it is necessary that the user making the change has the Advanced Change permission in the system.
Take a look:

If there are entries for the items to be edited, it is necessary to go to the Finance menu and delete the entries related to them.
3. But how do I know that the items have already been published?
We know that items have already been published when the checkbox appears gray and iClips displays an information message. Take a look: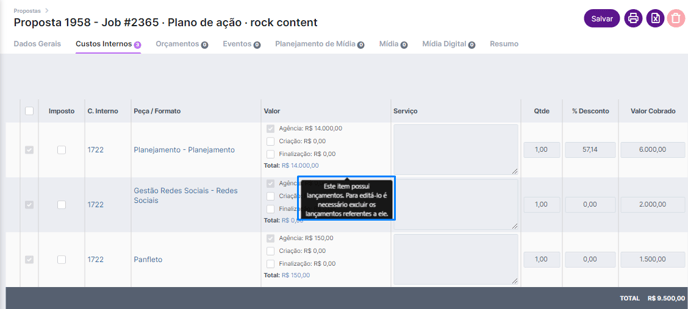 After deleting the financial entries, simply deselect what will be corrected and edit as needed.
Important: when you deselect a budget for an approved proposal, the O.S. number will automatically change.
With all the items duly changed, it is necessary to mark them again in the proposal and click on save. This will cause all items to be directed to pre-launch. From there, the finance area can start the job.