In this article, you will learn how to add a domain or a subdomain to your website or blog hosted at Rock Stage.
Requirements
For this procedure to work, you must have a registered domain. If you own or have access to your domain, you can skip this part. If you do not own a domain — or do not grasp this concept yet —, keep on reading.
Registering your domain
For you to have your own domain or web address, the first step is to think of a name verify its availability for the registration.
Check if the domain is available, register it, and then go through the procedure to claim a new web address for your website.
Adding your new domain
Now that you have your new domain, just access your configurations at Blog > Domain. Then, you just have to enter the new domain in the following field:
After doing that, click on "Update domain". After confirming, Rock Stage will prepare to receive the new address.
Please note: After changing your domain, if the appropriate DNS configurations have not been completed or any errors occurred, the WP-Admin link on your Dashboard...
...will no longer load your admin panel. Then, you will be required to copy the alternate domain from the dashboard...
...and add it to your browser like this:
"mysitealternatedomain"/wp-admin
Example: help.rockstage.io/wp-admin
Until your DNS configurations are successful, you can use this to access your WP-Admin link normally.
DNS configuration
For the procedure to be completed successfully and to enable access to your website through its new domain, you need to configure its DNS.
Just access your admin panel through the service where you registered your domain (like registro.br, GoDaddy, HostGator etc). Select the panel or service below:
Note: If you do not know where your domain is registered or is inexperienced in this matter, click here to find out.
How to check if the DNS configuration was successful
After configuring your subdomain DNS and HTTPS as mentioned above, now is the time to check if everything is working correctly. Try to access your website or blog through its definitive URL (which is the subdomain or domain you just configured). If you can access it normally, it means the configuration was done correctly.
To check your certificate's DNS settings, to make sure your website is secure, you must access your Rock Stage account:
Note: Only paying clients have access to the SSL option on Rock Stage.
Enter your Stage panel and choose the SSL submenu: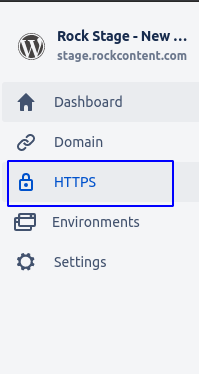 Check if there is an option called "Force HTTPS (High security)", according to the image below.

Now, all you have to do is select that option. All done! Your HTTPS configuration is successful!
In case you have any questions, do not hesitate to get in touch with us through the chat!
Remember that, depending on your server, your configuration might take up to 72 hours to propagate. Despite it usually taking 2 hours to work, it could take longer.