Fees

Rates vary depending on quite a few factors.
Role
Project type
Timing (rushes, for example)
Quantity and type of deliverables
Length (applicable to videos and presentations)
On average, Journalists and Scriptwriters can expect $300-$1000 per project, Designers can expect $700-$2000 per project, and Animators can expect $2000-$10,000 per project. Please note that while these numbers portray the average ranges, certain project types (ahem, micro-content) might be lower if bought individually.

If you ever have questions about your fee breakdown, contact help@rockcontent.com.



Setting Up Your Payment Profile

In the Earnings tab (found in the left-hand navigation), select Settings.


Complete the fields for each section. Payment options will change depending on country selected, as will the necessary information for each payment type. Note: If you change your country after filling out payment information, you'll need to re-input all fields.





Please be very careful when entering this information - if your account number is wrong when we try to process payment, you'll be automatically notified via email of the unsuccessful attempt, and we'll try again on the next payment cycle.
You'll know that signup was successful when you receive the confirmation screen, but typos in personal information won't be caught until payment is attempted. Please check your information to ensure accuracy - if you notice an error, you can edit your information at any time.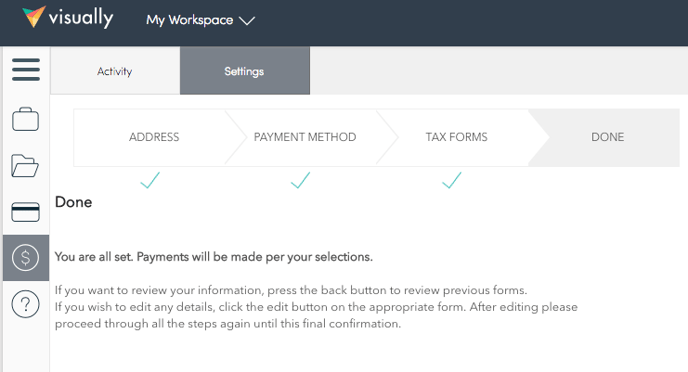 Getting Paid

Once the client has approved and closed the project, Visually will automatically begin processing your payment. You will receive a notification at project close confirming the fee and providing a Payout ID. Payments will be paid by the last day of the month.

If you have questions regarding your payment, please contact help@rockcontent.com and reference your Payout ID.

If you have any tax related questions, you should seek advice from your financial advisor, tax advisor, or the IRS about your individual situation.