Have you ever wondered when to use an asset and when to use a to-do? Here are the main differences between them.
Do you know when the activity to be performed by the employee should be registered as an asset and when it should be a to-do in the project?
Asset
In short: the asset is used to direct activities that depend on a workflow, such as social media posts, which need to go through Text > Design > Approval.
In the asset, it is possible to specify some information for the execution of the work in the best way: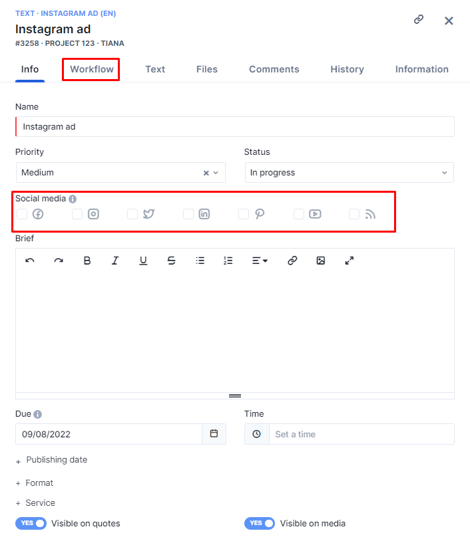 If it is a social media asset, for example, it is possible to determine which channels it will be published on: Facebook, Instagram, Twitter, and Linkedin.
This information will be reflected in the fields that will be available to fill in each social network: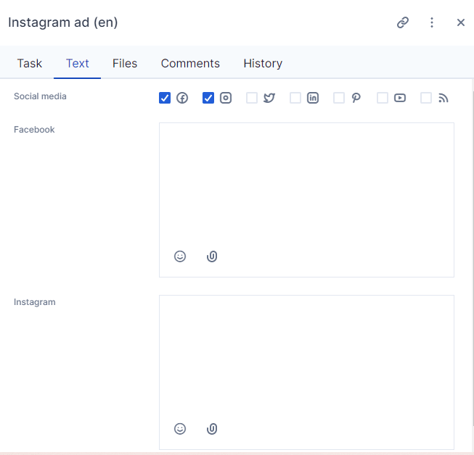 It is also possible to specify the creative brief of the asset, the format, and the client services manager and replicate it (that is, make a copy of it with the number of times you define —a function widely used for planning posts for the month).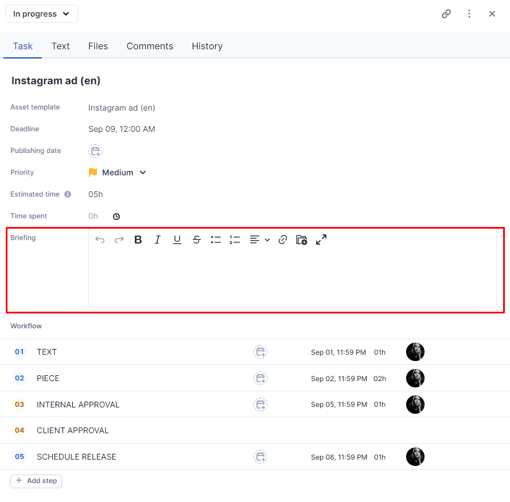 This information will be made available to all the people involved in the asset's workflow, which can be customized as desired.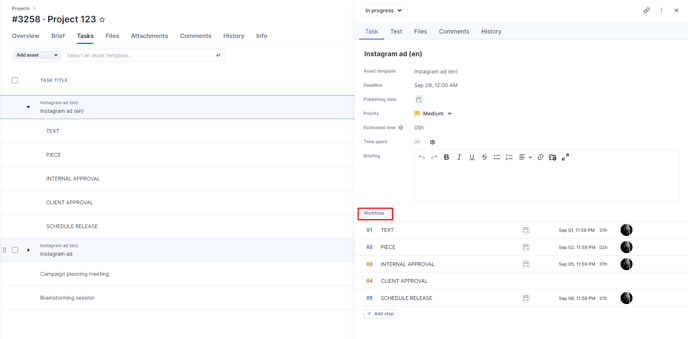 In fact, the definition of the flow will depend on how the work in your agency progresses, but what must be taken into account is that you can define the dates and owners for each step for sequential execution:
See a workflow example below: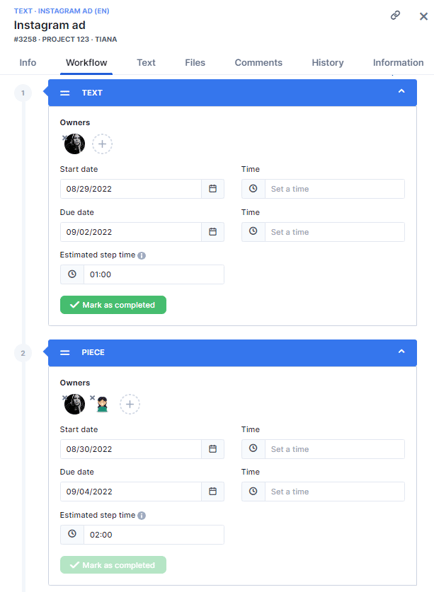 So, we can say that an asset is a set of steps related to the creation of an agency service that often follows a flow of execution like the example above.
To-do
A to-do must be used for specific activities to be carried out within the project. The big difference in relation to the asset is that the to-do has no execution flow.
For example: setting up a plan, making a budget or IO, meeting with the client, and generating a report, among other activities that do not require a sequence of execution.

In addition to these characteristics, the to-do also has a peculiarity. It is possible to determine a "relation" linked to the activity. Check out:
When the employee responsible for the task accesses the "My Tasks" dashboard to execute it, a button related to this activity will be available.
Ex .: Media planning. See below:

Note: it is important that the person responsible for the to-do has already pressed "Play" in the work log before clicking on this shortcut.
An important point to be emphasized is that there is the possibility of counting the time spent to carry out activities through the work log.
Still need help? Simply reach us at help@rockcontent.com or through the platform chat and we will help you!