Quizzes are a great way to engage your readers and test their knowledge. A quiz asks your audience to select one correct response from a list of options. This is a great feature because of it:

Drives higher engagement from your readers
Tests their knowledge about the topic(s)
Navigation
Dashboard > Any Stream > Write a "Quiz"
Permission
Any
How To Create a Quiz
Select a stream, which will take you directly to the Content Studio
Click on the Create drop-down in the top-left corner of the RichText Editor
In the Question field, enter a quiz question
In the Answers fields, enter the responses you want your audience to choose from
Note: New fields will be generated as you type multiple answers
Use the drop-down menu to select the Correct Answer
Click Publish to send your quiz directly to the stream or click on the 'Schedule' icon to choose when you want the quiz to be published

Note: The quiz cannot be edited once it has been published. Ensure that your Question and Answers do not contain any typos or errors before clicking Publish.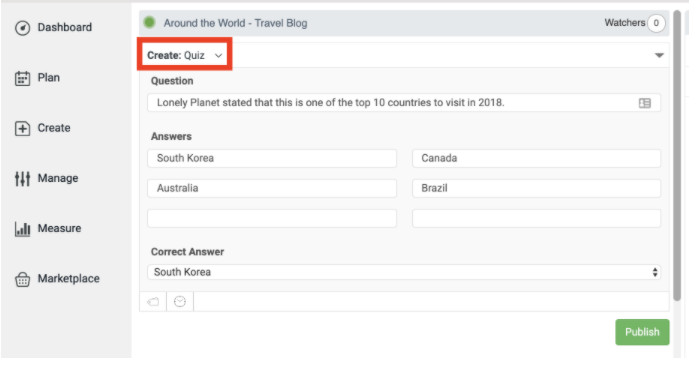 Note:
It is not possible to modify a quiz question once it has been published to a stream. This is by design. Modifying a quiz after it has been published to a stream could skew your results. If you wish to modify a quiz after it has been published to your stream, we recommend deleting it and creating a new one.
With this feature, you ask your audience to select an answer from a list of options.


When they respond, they receive information about which answer is correct, as well as how many individuals participated in the quiz.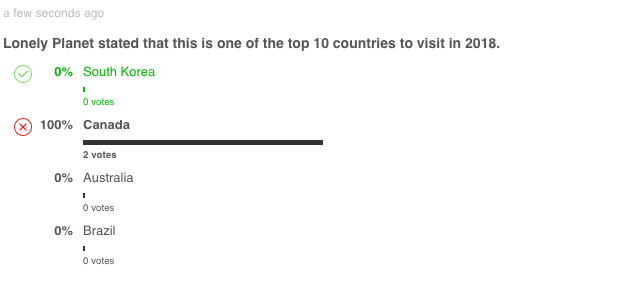 How to Open or Close a Quiz
Audience members can only answer a quiz question if the status is set to Open. A green status button will appear at the top of your published quiz. To change the status of the quiz to Close or Open, click on the drop-down (in the bottom right-hand corner of the quiz) and select Close or Open.