Creating a Pinboard template makes it easy for your team to access a Pinboard that has been created with your branding guidelines. Once a template has been created, it will appear in the list of publishing templates on the Templates > Pinboard page.

In this article:

Navigation
Dashboard > Manage > Templates > Create New
From within a stream > Setup > Templates > Create New
Permission Level
Administrator | Developer
Navigating to the Template Settings Page
You can create a new template by accessing the Manage Templates page, or by accessing the templates page from within a stream.
Option 1: Manage Templates page
1. Click Manage > Templates on the left sidebar to get to the Templates page.

2. Click on the Pinboard tab at the top of the page.

3. Click on the Create New button to create a new pinboard template.
Option 2: From Within a Stream
1. From within your stream, use the Stream Menu at the top of the page to navigate to Stream > Templates.

2. Click on the Pinboard tab at the top of the page.

3. Click on the Create New button to create a new pinboard template.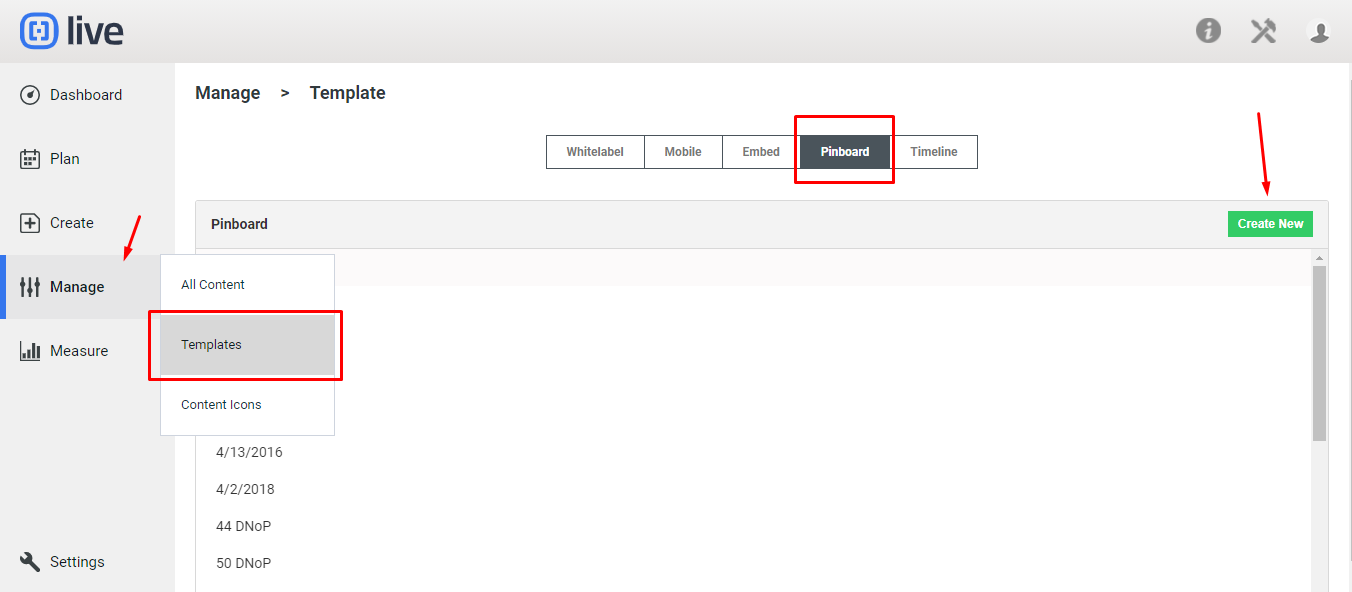 Customizing Settings
On the settings page, you can select from a variety of preferences, and use HTML to customize the pinboard template. The following customization options are available: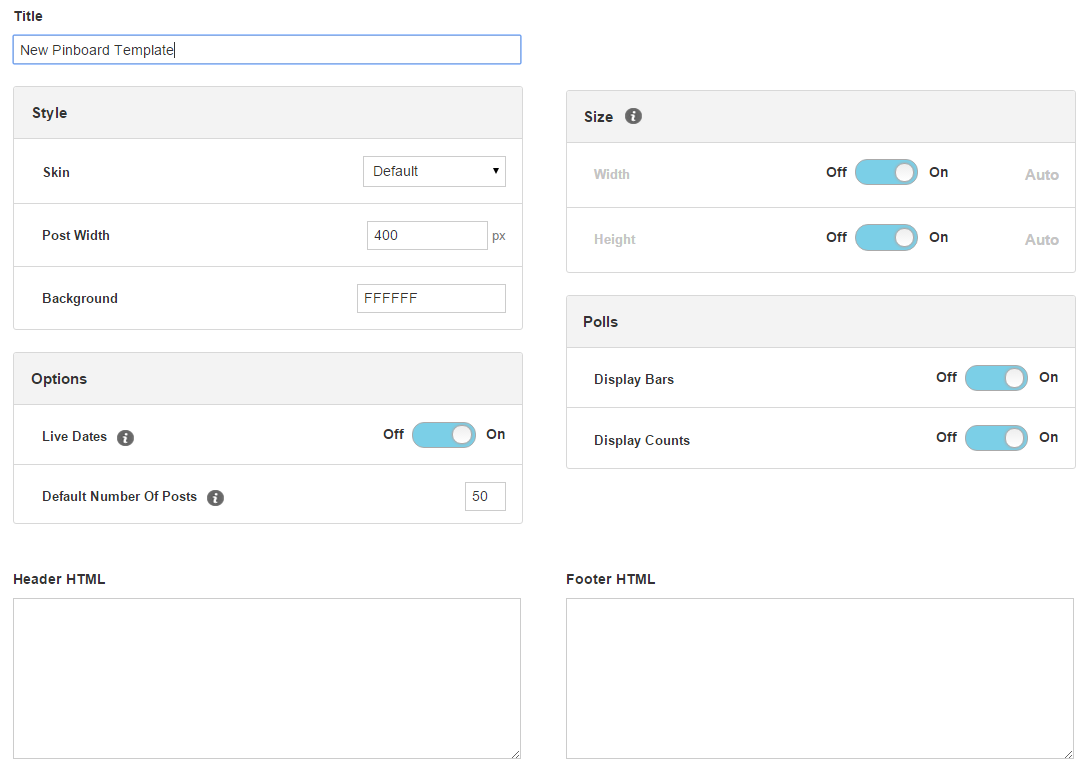 Title
Insert a title for your pinboard template.
Style
Skin: Default (white post background); Midnight (Black post background)
Post Width: Set the width of your posts in pixels. (Note: The postcard default width is 400px)
Background: Set the background color of your pinboard template.
Options
Live Dates: Switch the slider to On to display a live date when content is posted to your stream (e.g., a live date may appear as "3 minutes ago" as opposed to just a timestamp of "9:20 pm")
Default Number of Posts: This is the number of posts that appear in your pinboard before the 'Load More' button appears.
Size
Automatic: Pinboard templates are now responsive and can automatically resize to the size specifications of any device. Use the slider to turn this feature On.
Width, Height: If you prefer, you can set a fixed width and height size for your pinboard template in pixels. When your pinboard template is embedded on your page, it will render in these size settings. (Note: Minimum width = 280px; Minimum height = 200)
Polls
Display bars: Switch the slider to On to display poll results as bars, as opposed to a number of votes.
Display counts: Switch the slider to On to display the number of votes each poll option has received.
Header HTML: Add custom HTML, CSS or JavaScript to the Header portion of your pinboard template.
Footer HTML: Add custom HTML, CSS or JavaScript to the Footer portion to further customize the look, feel and behavior of your Live pinboard template.
Header/Footer HTML
Enter code in these fields to modify the style of the pinboard. You can target various parts of the pinboard to customize font color, font size, background color of the pinboard, and more!
Previewing Your Changes
You can preview how your pinboard template will appear with your customizations in the Preview area beneath your customization options.

Click the Save button to save all changes to your pinboard template.