Enhance your content by adding a scoreboard to display up-to-the-minute sports scores and data with our Live Scores feature. Live Scores scoreboards automatically display the latest scores and data from your league, team or tournament of choice, making it easier than ever to offer your readers the most current sports data available.

With Live Scoreboards, scores are updated automatically: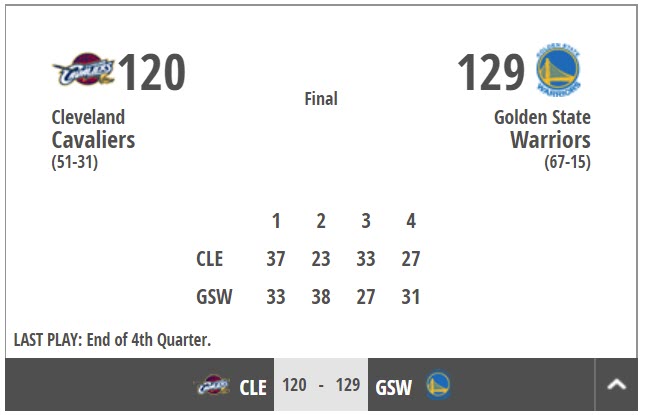 In this article, learn how to:
Considerations:
Only 1 Scoreboard can be published at a time per Content Experience.
Scoreboards do not automatically appear in Pinboards, Articles or Timelines. Instead, a Standalone embed code option will be made available.
API? Public API endpoints will be able to create, update, remove Scoreboards
Live Scoreboards are available as part of Live's Enhanced Experiences package. Please reach out to your Customer Success Manager to discuss incorporating this feature in your content engagement plan.
Navigation
Dashboard > Any Live Stream > Setup > Scoreboard
Dashboard > Any Live Stream > Create > Scoreboard
Permission Level
Administrator | Developer | Editor
Publish a Live Scoreboard to your Stream
Scoreboards automatically appear at the top of linear embeds. If you're using a Pinboard, Article or Timeline, a standalone embed code option will be made available. They can be collapsed by the front-end user.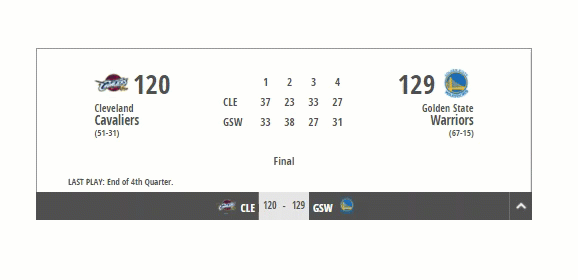 To create a scoreboard:
1. Go to your stream's Write page.
IN CONTENT STUDIO - Select Scoreboard from the Create tab.
IN ORIGINAL WRITER'S INTERFACE - From the stream menu at the top of the page, click Menu >Setup > Scoreboard.

2. On the Scoreboard settings page click on the Select Scoreboard drop-down menu, and click on Live.

3. Use the drop-down menu to select a league to start creating your live scoreboard.

4. Use the Date drop-down menu to select a specific date for your scoreboard. The default date setting will appear as Most Recent Days Games. This will create an ongoing scoreboard that will continue to update based on the most recent games in your specified league.

5. Use the Default Team drop-down menu to select a team to display on default, or No Preference to display the most recent game in your specified league.

6. A Preview of your scoreboard will appear in the right-rail of your Live Scores Settings page. Use the arrow in the bottom-right corner of the scoreboard to minimize and maximize your scoreboard.

7. Click Publish to place your scoreboard above your stream's Live feed. The scoreboard option in the upper stream menu (Setup > Scoreboard) will appear with a green checkmark to indicate that your scoreboard has been published to the stream.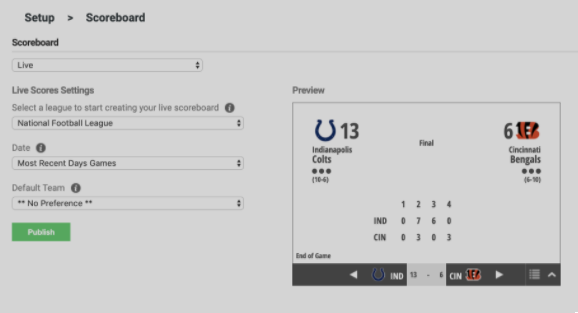 Locate the Embed Code for Your Scoreboard
By default, scoreboards appear at the top of the embed visualizations. To display a scoreboard with any other visualization - or separate from a stream, you can use the scoreboard's individual embed code.

Once you've created a scoreboard, click Embed Code to generate a responsive script code. You can copy this code and paste it anywhere on your digital property.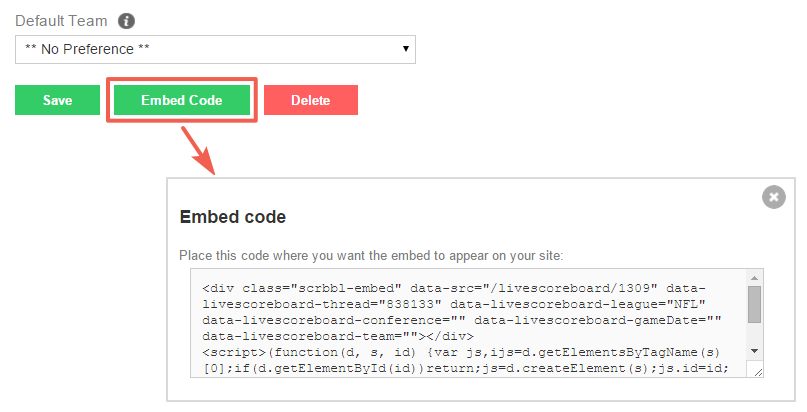 Modify Your Live Scoreboard
Return to the scoreboard's settings page to make changes to your scoreboard. For example, you may decide to set a default team or configure a specific game date.

Go to the Scoreboard page by navigating to Menu > Setup > Scoreboards at the top of the stream.
Adjust your scoreboard settings using the drop-down menus to select your league, date and default team.
Click Save to save your preferences.
Note:
If you have embedded your scoreboard elsewhere, you will have to re-copy your embed code to your clipboard and place it on your page for your changes to take effect.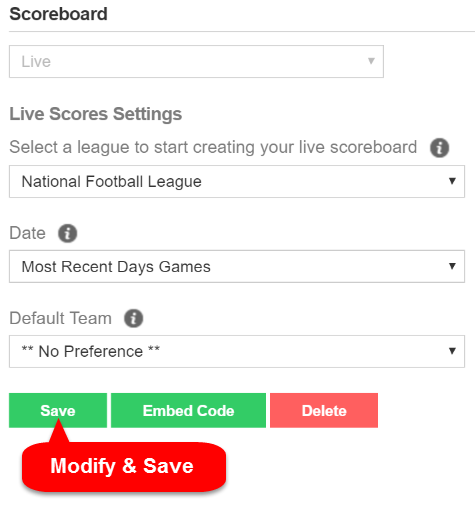 Remove a Scoreboard From Your Stream
Go to your stream's Write page and click on Scoreboards in the left sidebar.
Click Delete to remove the scoreboard from your stream.
Note:
Your scoreboard will be permanently removed from your stream.
The green checkmark will no longer appear on the Scoreboards icon, indicating that the scoreboard is no longer published to your stream.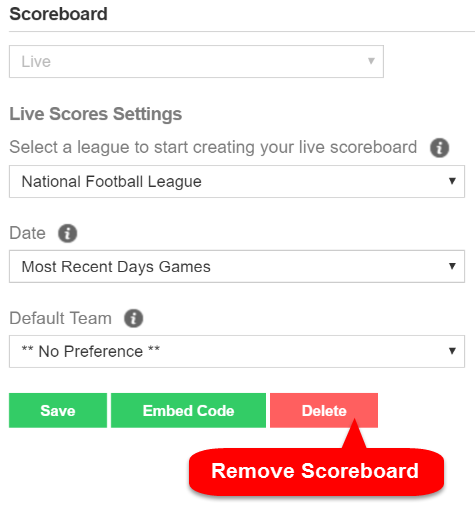 List of Supported Leagues
We currently support Scoreboards for the following leagues:

MLB
MLS
NFL
NBA
NHL
NCAA Football
NCAA Men's Basketball
NCAA Women's Basketball
PGA
LPGA
UEFA Champions League
Bundesliga
English Premier League
La Liga
Ligue 1
Serie A
Super League
World Cup