After understanding how Rock Stage can help you, in this article, we will guide you to choose the best way to contact our expert support.
Service Channels
Today, Rock Stage's Support works on 4 Service Channels: Help Center, Email, Chat, and Calls. The first 3 are available to all paid customers, and the call service is exclusive to customers from the Business plan.
Help Center
This is the fastest way to solve your doubts and get help. We have materials that teach you how to make a pointing, to solve login problems, to customize your Rock Stage template, among other questions. You only have to type the keyword of your query in our search bar:

Email, chat, and calls
After logging into Rock Stage, on the upper right corner of the screen you will find the Support icon:

When clicking that icon, the options of Service Channels available to your plan will appear.
Email
On the support box, you can select the option to get in touch with us through email. You only need to select the general subject about which you want to talk and describe your question. For this Service Channel, our maximum time for the first response is 1 business day, and you can send the email at any time.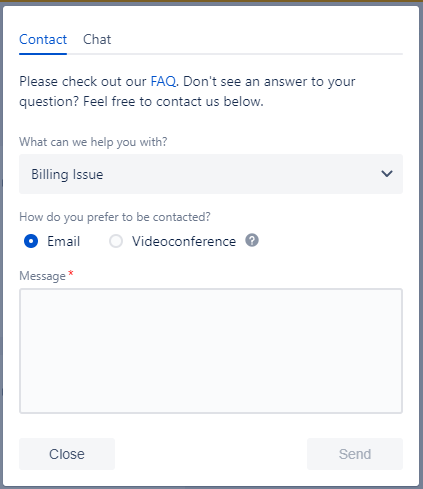 Chat
On the same screen, it is possible to select the chat service:

In this case, our average response time is within a few minutes, and it is available from Monday to Friday, on business hours (9 am to 5 pm). In periods in which there are no attendants, you can send your message, and we will contact you by email within 1 business day.
Calls
For some plans, it is possible to schedule a call with a support agent. You can find more information about how this works on this article.


To know more about how we can help you, just click here!