Learn how the timesheet tool can assist you in analyzing employee activities and you decision making.
The timesheet is a tool that counts the number of hours worked on a project's specific piece/task. You should use the timesheet and encourage its use by the team to obtain information that will be crossed between hours worked x the cost per hour for each employee. With data, the project pricing is more assertive, avoiding losses and guaranteeing the profit margin you desire.
To use it, you must guide the person responsible for the piece to use the "Play", "Pause" and "Finish" buttons in all of their activities on iClips.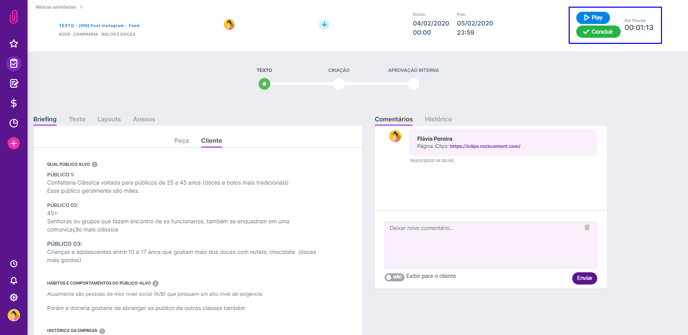 These buttons can even be used in the Kanban, Block, and List views.

With data concerning the hours worked and the hourly value of each employee, it is possible to have access to productivity reports of the activities done, which help you in decision making.
In addition, while knowing how much time is spent on each activity, the manager can organize the processes and workflow better. This also makes it easier to price the services offered by the agency, since the manager knows which services require more or less time and can distribute in the best way possible!