Improve your content's performance by listing your stream on the Live Market. By making your stream available on the Market, other Live clients can syndicate your content to their stream allowing you to further extend your content reach. Syndication further allows you to buy or sell your content to other Live customers enabling you to monetize your content.
Click here to learn more about how syndication with Live can help maximize your stream's potential.
Navigation
Dashboard > Any Live Stream > Syndication > Settings
Permission Level
Administrator | Developer
Make Your Content Available on the Live Market
Once you've created a stream, you can put your stream's content on the Live Market in just a few clicks.
From the Content Studio, use the Stream Menu at the top of the page to navigate to Menu > Promote > Syndication. Filling out the fields on in the Live Market section will configure your stream for the Live Market. Here's an overview of the sections to fill out:
Available On The Live Market - Move the slider to Yes to make your stream available on the Live Market.
Pricing - Use the drop-down to select your pricing preferences: Free, Fixed Cost, Contact Us. Click here to learn more about your pricing preferences.
Category - Select the category, or categories, for your stream to appear in on the Market.
Artwork Image - This image will be the thumbnail that represents your content on the Live Market.


Including an image is an essential step when listing your stream on the market. There is no limit on the resolution, however the higher quality your image, the better.
Crop your image to optimize its size. Click on the Apply Crop button when you are satisfied with your image.
Source Name - Specify a name that will appear as the source of content (eg. Live Sports). If left blank, your client account name will be used when posts from your stream appear in streams that have syndicated your content.
Description - Enter a description of what your stream will be about. This description will appear in the market.
Top HTML - Add custom code to the Top HTML box if you would like your brand or a custom banner to appear in any stream that syndicates your content. Click here for more information on adding a Top HTML to your stream.
Click Save Changes to register your preferences.
Monetize Your Content (Add Pricing)
Go to your stream's Write page, and click on Syndication > Settings in the left-sidebar.

In the Live Market module, ensure the Available on the Market slider is moved to Yes.

Click the Pricing drop-down box to select a pricing option for your stream. You can list your stream for Free on the market, set a Fixed Cost or allow other Live clients to contact you for pricing by selecting Contact Us.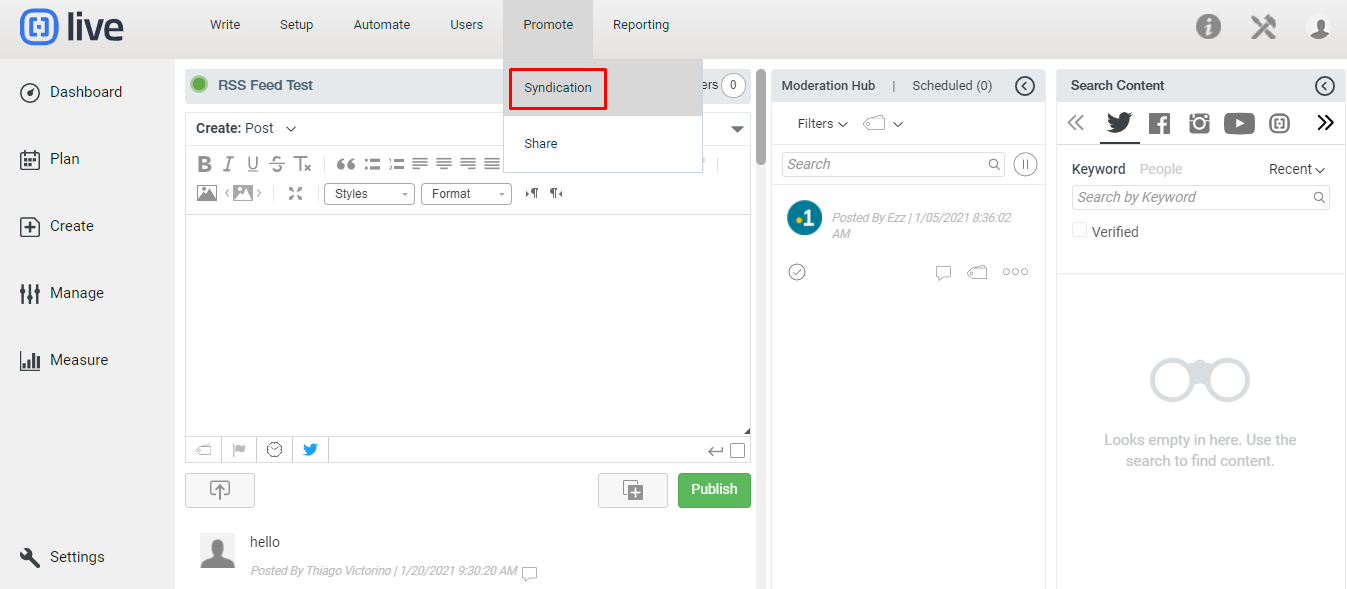 Fixed Cost
Select your Currency type from the drop-down menu and enter a fixed amount in the Cost field.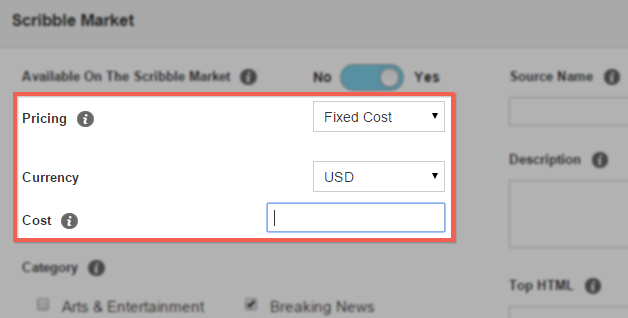 Contact Us
A message will be displayed on the Market requesting that people contact help@rockcontent.com to discuss the cost of syndicating this stream.