Following these Best Practices for optimal usage of Support resources will help you get quicker solutions from the team 😊
Best Practices: Tickets
When submitting a new Ticket or asking your Customer Success Manager to do it for you, the more information you share at first, the better are your chances of getting a one-touch resolution. An ideal Ticket should have:
Customer name and Console. If an agency, clarify which client and their email address
Links to the Console or to the Creative and others (Integrations, Scripts etc.). If embedding, also the link to the URL with the Embed Code
Screenshots, screen recordings and/or attachments (documents, files etc.)
Comprehensive description, preferably using Ion terminology

Was the Creative created by your company or delivered by Rock?
Have you created other Tickets or used Chat for the same topic? If so, let us know
If it is about third party tools (Google Analytics, CRMs etc.), include their screenshots
Topics for Tickets
Preferable topics to address via email are advanced ones, such as Integrations, Query Strings, Lookup Tables, Scripts, Server Scriptlets, Logic and Rules, since they demand more dedicated time to troubleshoot and often require further assistance from the technical team, as well as Tickets with several questions at once.
Some topics are directly escalated to Engineering and should also be submitted via email: Errors, Installation or Renewal of Private Security Certificate (SSL) and Feature Requests.
Besides these, complex questions on usually basic topics should also be handled in Tickets, like a particularly challenging Styling/Responsiveness situation.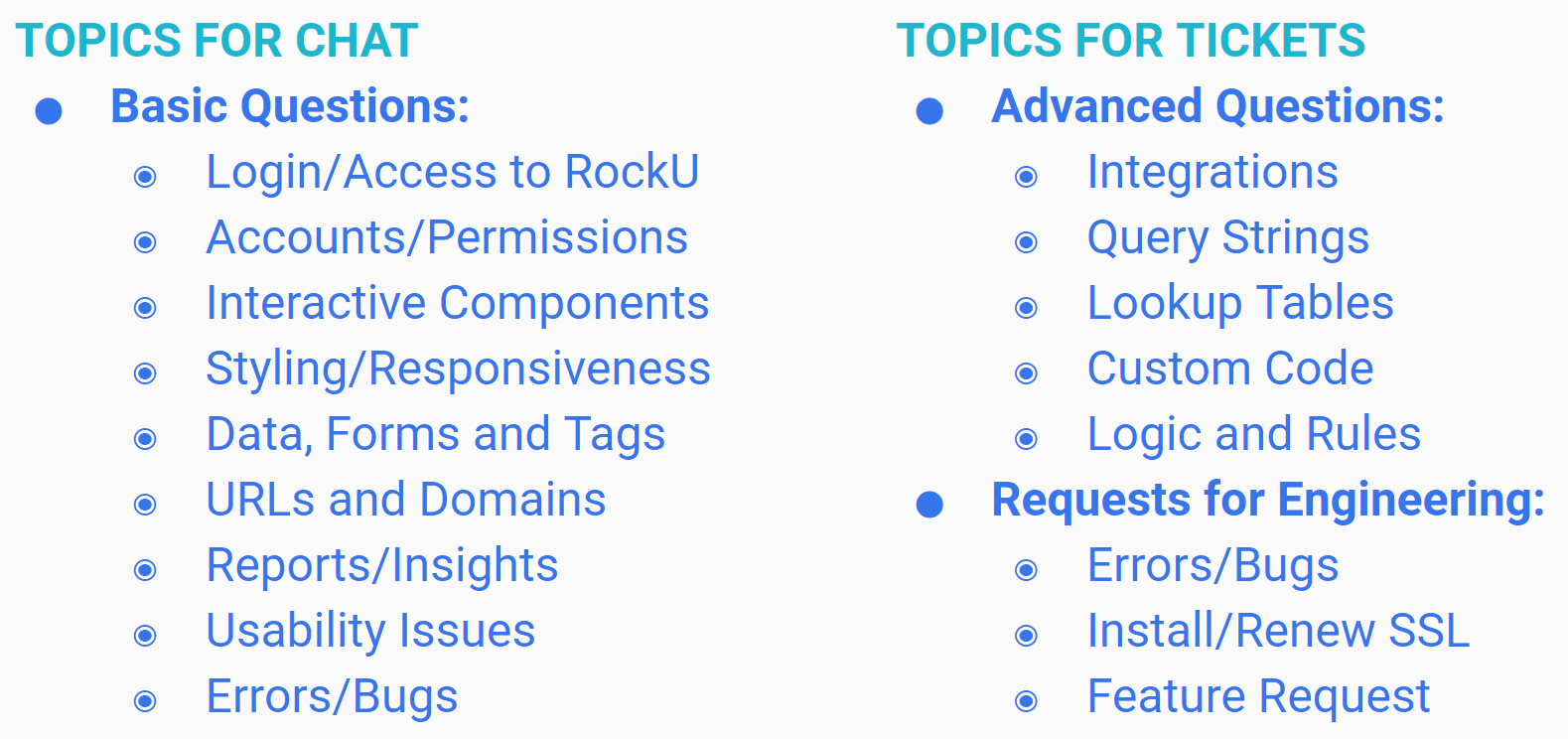 ---
Best Practices: Chat
Chat is available from Monday to Friday, 9am to 5pm, and the initial chatbot will help gather the information needed beforehand, like description and link to Creative, so the agent can get into it right away!
Topics for Chat
Preferable topics to address on Chat are more basic ones, such as Login/Access to Rock University, Accounts and Permissions, Interactive Components (Flows, Reveals, Videos etc.), Styling and Responsiveness, Forms, Data and Tags, URLs and Domains, Reports and Insights, Usability Issues or Errors. Although some errors can be addressed via email, like downtime, you might prefer to report an error on Chat for a quicker confirmation. If it turns out to be an actual error that needs to be escalated to Engineering, a Ticket will be created after the Chat anyway.
Ideally, Chat should be used to quickly solve any straightforward questions that might come up while you are creating an awesome experience in Ion! Please note:
Whenever needed, you can ask the agent to send you the transcript of the Chat afterwards. Feel free to ask them to include the shared screenshots too in the email;
Chats might be closed when a customer doesn't reply to the chatbot or to the agent after several minutes, due to a lack of connection or similar, and they will be contacted via email for further assistance in case they do not return to Chat right away;
Chats might be redirected to Tickets if intended to address the advanced topics mentioned above or more complex questions, to avoid long waiting periods on Chat.
If you have any questions, please contact us on help@rockcontent.com. 😀