In this article, you will learn in a few minutes the first steps to issue your invoices (NFS-e)
In order to optimize your time, iClips offers the option to issue an invoice (NFS-e).
This integration is done between the city hall of your city and iClips. For this to happen, it is necessary to include the company's accounting data.
Before starting, we recommend that this process be carried out along with your accountant, to avoid tax conflicts when filling out information.
To set this up, go to settings > agencies. Select the agency in question, and click on the 'Invoice and Taxes' option.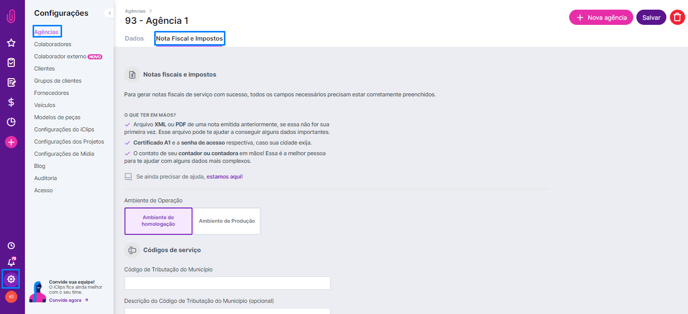 IMPORTANT: The digital certificate compatible with iClips technology is A1.
When attaching the certificate to iClips, make sure it is in .pfx extension. To make sure it is in this pattern, you can use the 'export' or 'backup' feature in the same program where you generated the certificate.
You must also enter data for taxation. iClips will automatically calculate taxes that the agency must pay. This calculation is updated as each invoice is issued by the system. Observe the fields you must fill in to make this integration: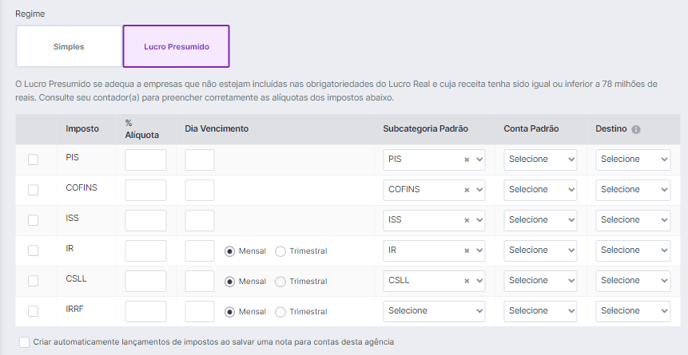 You can work under the "Simples Nacional" or "Lucro Presumido" Brazilian taxation regimes.
For each regime, rates and taxes will be specific; the data must be collected with your accountant. In iClips, you must enter the subcategory of accounts to which the tax is related. Also inform the standard bank account and the destination of this tax (Department of the Treasury, City Hall, etc.).
Still need some help? Just send us a word at help@rockcontent.com or on the platform chat and we will help you out!