Please check the below screenshots for the updated path where you select the GDPR Banner.
The European Union requires websites that use cookies to collect data from visitors to give those visitors the option to opt out of that data from being collected and leave the site. ion users can gate an experience to require active consent before you can interact with the real experience.

In this support post, we will discuss how to use Quick Starts to add a banner to your ion experiences to get consent from respondents to accept third party cookies. By following the steps outlined below, visitors from Europe will be served up with the consent banner. Third party cookies will not be saved unless respondents click the banner or an area outside of the banner on the landing page to opt into receiving third party cookies.

*NOTE: The ion cookie is a first party cookie and will be dropped into the respondent's browser. Third party cookies are dropped via tracking scripts that are added to your ion experiences.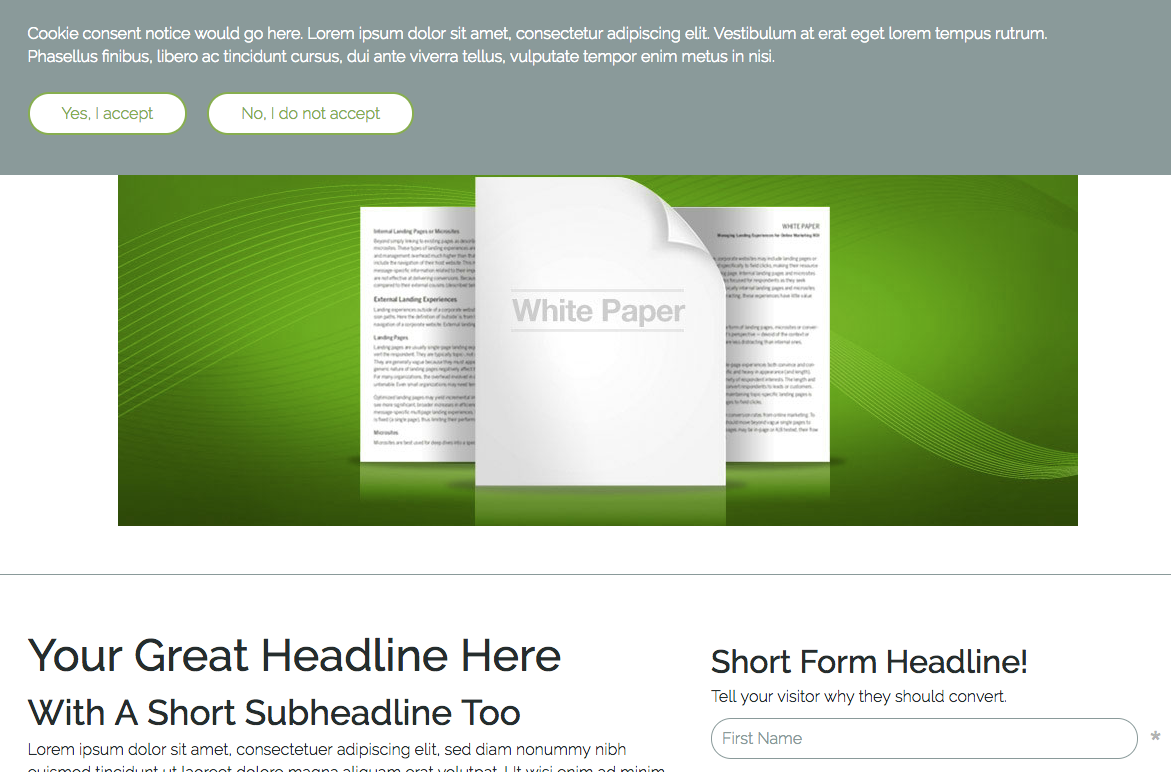 EU Cookie Consent Quick Starts
To get started, you will first want to add a page to a creative where you want to add the cookie consent banner by clicking the green "New page" button within the Creative Management screen.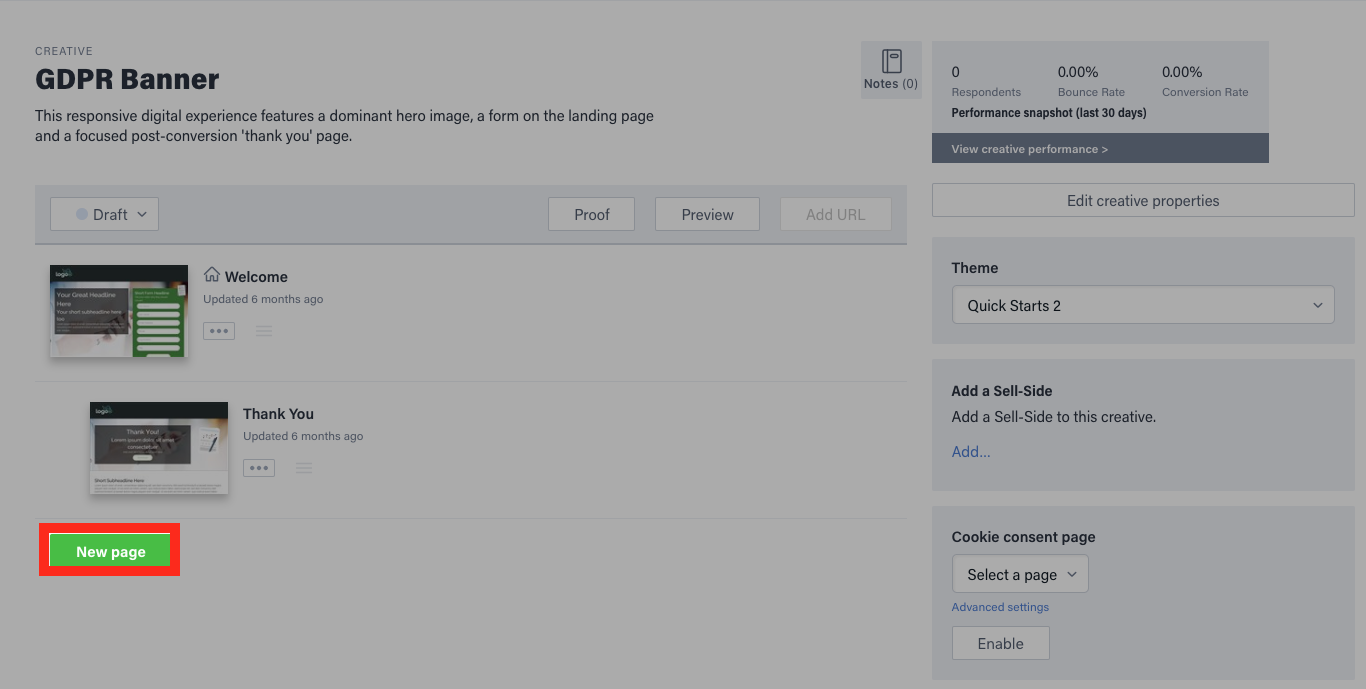 These are how GDPR QuickStarts can be located from the below screenshot.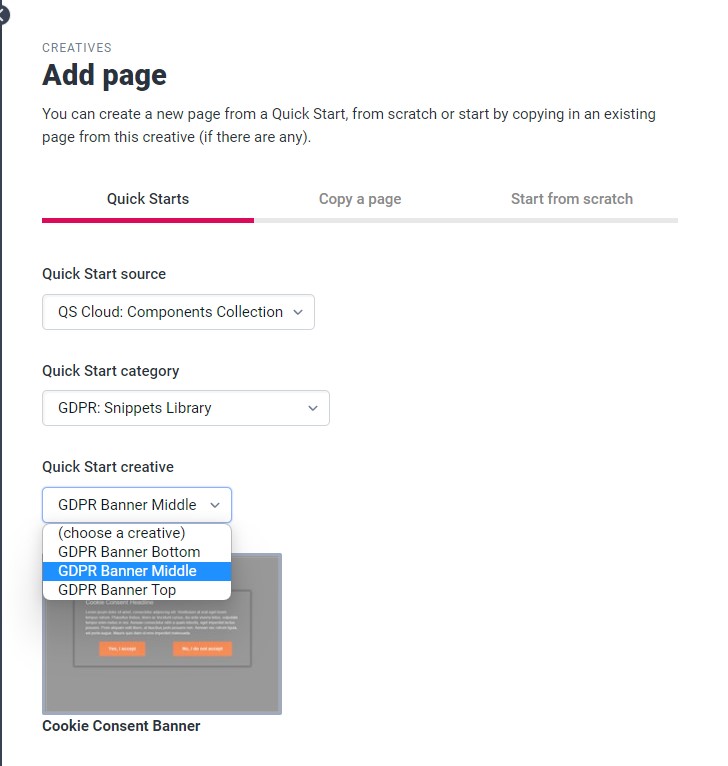 When adding a new page, You will find three GDPR banner options in the "GDPR Cookie Consent Banners" category to display a cookie consent banner at the top, bottom or middle of your landing page. You can select the option you would like to add to your creative and click save.

After adding the cookie consent page, you can adjust your banner styling and update the placeholder text to your desired consent message.

Creative Management Screen
Once the EU Cookie Consent Banner page is set up, go back to your Creative Management screen. From here, you will see an option to specify the cookie consent page on the right side of your screen. Simply select the EU Cookie Consent page that you created in the previous step from the available dropdown menu and hit the enable button.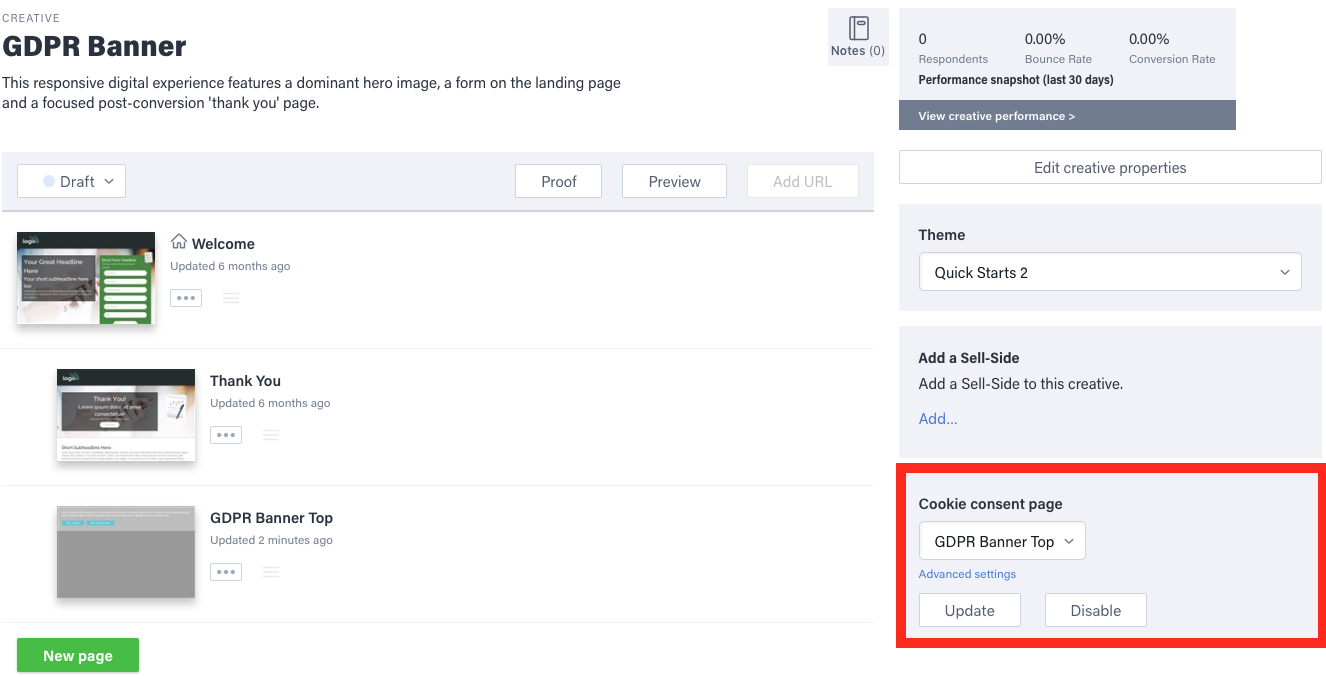 Actions
After enabling the cookie consent page, go back into your GDPR banner page. Each GDPR banner quick start includes an accept button used to accept third party cookies and a decline button that respondents can click to leave the experience.

Select the accept button and change its action to go to the "Current Gated Page." This action will reload the page that the banner is displayed on.

*NOTE: The accept button has a rule assigned to it to "Accept cookie consent" which is technically what opts the respondent into receiving third party cookies. This rule is vital to the setup and must remain in place. Once cookies are accepted and the page reloads, the banner will no longer be displayed.

Advanced Settings
You will see an advanced setting option when specifying a cookie consent page in your Creative Management screen. You can click the advanced setting link and then enter text that will be used as a "consent sharing key." When this optional key is in place in multiple creatives, respondents who opt into third party cookies on one experience will be opted into accepting third party cookies on other experiences that have the same consent sharing key. This allows you to use a shared key in specific experiences as opposed to sharing consent across all experiences.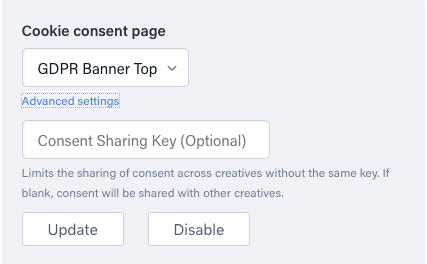 Within your Configure Site screen (Settings > Configure Site), there are some advanced options related to the cookie consent setup as well. On this screen, you will see options to share cookie consent and to require cookie consent.

When the "Share Cookie Consent" option is enabled, anyone who opts into accepting third party cookies on one ion experience will automatically be opted into all others where it is enabled (as opposed to having to opt into each site individually).

When the "Require Cookie Consent" option is enabled, new experiences will not be able to go live without having a cookie consent page set up.

*NOTE: Any link coded inline with text (i.e. without using ion link editor) will need to have a target specified within the <a> tag. Links coded inline with your consent message will cause banner to disappear without consent being given unless a target is specified.