Access the manager portal for Community Content by going to manage.cc.scribblelive.com. Watch the training webinar recording and access the Knowledge Base for additional step by step instructions on how to control each feature. Below is a brief outline of new features. Email help@rockcontent.com for questions or help.
Things you WON'T need to worry about… this will all automatically transfer over:
Your username & password

All submitted content, whether or not it has been moderated/approved

Channels/tags & Reports on them

Social importing - hashtags, Twitter mentions and FB importing

Any notifications you've set up

On Air themes & previous playlists
From the Dashboard, you'll see the 4 most-used features in click-able icons at the top of the menu list:
Moderation (previously Manage > User Content)

On Air

Social Import Mappings

Portal
Features of note:
Thumbnails show channel/tag, source, submission date & username.

Icons on the thumbnail indicate the following:


1st icon indicates whether the content is "new", "on hold" or "already approved
2nd icon helps users figure out whether the thumbnail is an "image" or "video"
Click the thumbnail to open that item to edit title/description/credit/channel/tag.
Mouse over individual thumbnails to view options like approving/deleting, viewing metadata and downloading the pic/video.
Click + drag your mouse over a batch of images or ctrl+click to select multiple.

Menus at the top of the page allow you to filter by status (New/Approved), types (pics/videos), sources (email/social) & channels

Advanced Search allows you to search by date & by tag by entering it into the Search Criteria box.

Advanced Search allows you to moderate content (enter keywords into the Search Criteria box and moderate content).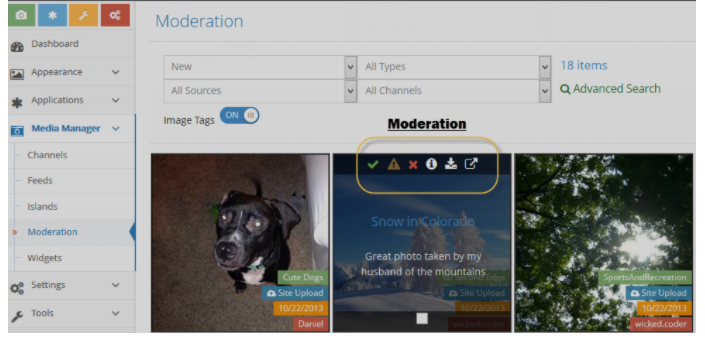 You can edit, play, delete, print or export any existing segment. Click Add Segment to start fresh.

Similar to the previous management portal, you'll mouse over images and click them to add.

You can filter content & choose the air date and theme from this page, as well.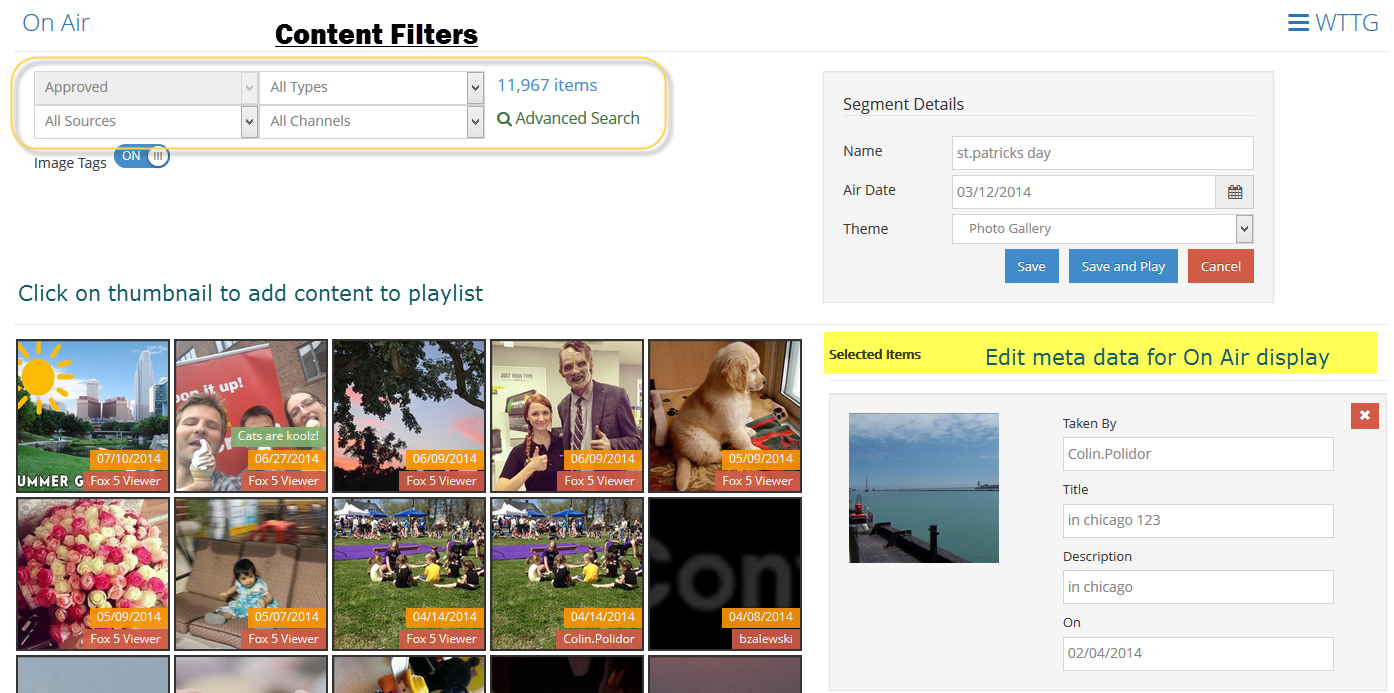 To create a new channel gallery click on New Channel button

Fill out the Details, Appearance, Custom Fields, and Keyword tab

When finished, click Save and channel will appear back in list.
Tools > Social Import Mappings
This will function like the previous tool, but looks a bit more streamlined.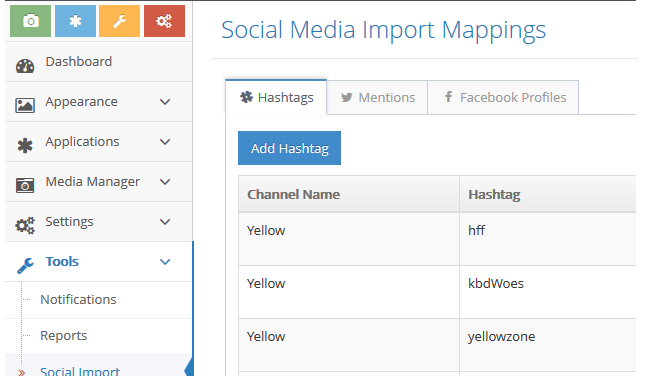 This page is similar to the recently updated Reports page. To access, go to Tools > Reports.

Upload Types: Separates images & videos by upload type per month.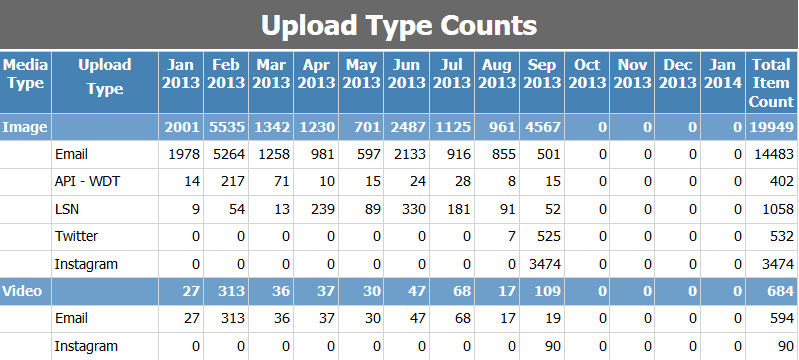 Content Categorization: Select dates and click View Report to see # of items per channel/tag in that timeframe.